God's Not Dead
SCORE: 84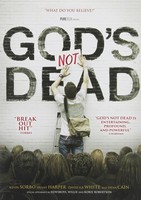 A very real problem is happening on college campuses - Christians are being treated like second class citizens. Atheist professors are abusing their positions of power and authority. Millions have lost respect for Universities as they realize it has become liberal indoctrination camps that charge a hundred thousand a year or more. God's Not Dead touches on this major problem in society.
It is really neat to see a movie like God's Not Dead because of all the stories coming out of colleges where professors are trying to force everyone in their classes to attack God, and Christians. I find it most interesting how the tolerant of diversity crowd are they themselves the most intolerant. God's Not Dead really hits the issue fairly from both sides. It exposes the stance of the political left. Which is to use fear, intimidation, slander, lies, propaganda, insults, and arrogance. It is amazing how little evidence they present.
There are some big name stars in God's Not Dead. I wish they had given a few more roles to believers who could use a break. Willie and Korie Robertson, as well as the Newsboys have enough exposure. Give some others that opportunity. I know plenty of well deserving brothers and sisters in Christ not being given a big break.
The arrogance of the atheist professor is right on track with personal experiences in my life. So is the use of threats, fear and intimidation. They don't have the truth on their side so they have to resort to parlor tricks. The abuse of power by college professors is something that needs to be addressed. Education needs diversity thought, and to be inclusive of Christians.
God's Not Dead lasts for 114 minutes, and was light on the extras. Especially considering how much we paid for this DVD. I really wish Christian products would be better about pricing. I also noticed all the major characters (but one) got saved by the end of the movie. Which is a bit unrealistic for at least one of them.
- Paul
Graphics: 80%
Sound: 80%
Replay/Extras: 80%
Gameplay: 90%
Family Friendly Factor: 90%

System: DVD
Publisher: Pure Flix
Developer: Pure Flix
Rating: 'PG' for Parental Guidance Suggested {Thematic Material, Brief Violence, and an accident scene}

Want more info on this product, the company that made this product?
Set web browser to:
Link

Got a question, comment, or a concern regarding this review?
Email them to:
pbury@familyfriendlygaming.com