The Oregon Trail
SCORE: 50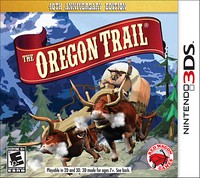 Red Wagon Games is known for some successes, and some losses when it comes to video games. Some of their games are great, and some are not so great. So I went into The Oregon Trail on the Nintendo 3DS with my eyes wide open. I knew there was a chance this game would be awesome, or lame. I hoped for something in the middle. I was wrong. Really, really, really wrong.
My first problem with The Oregon Trail was trying to figure out how to make my wagon move. I moved my hand cursor off the screen and did not know to tap the sign to leave the town. Did you know you can rest day after day in The Oregon Trail? Yes sir or ma'am. This 3DS game will not automatically stop after resting a night. That thing just keeps going around and around.
Once I got out of town, I was bouncing away on this path. The washed out graphics looked bad. Even worse when I put it into 3D. The 3D bouncing around on the rocks made me physically ill. I turned the 3D off before I threw up. Avoiding all the rocks was bad enough, but the constant interruptions was even worse. It seems every so many feet there was someone standing around wanting to tell me something. Which broke up the wagon action.
What makes matters worse in The Oregon Trail is the controls. They are clunky at best. There are items we can collect along the bumpy trail, Steering your oxen to them is not always easy though. The more damage your wagon takes the worse things get. Navigating to the characters around town, and in the hunting screens is just as bad. Slow, tedious, and not using the options of the Nintendo 3DS come to mind.
The positive parts of The Oregon Trail are taking care of your family, keeping them healthy, keeping them alive, taking care of your animals, and taking care of your wagon. I also enjoyed shooting animals. It was like having a mini game included. I am less thrilled about the fishing game in The Oregon Trail.
The four unique stories are present for those who can get into this hand held video game. I found The Oregon Trail too boring, and bland. The cumbersome interactions need to be improved in sequels.
- Luke
Graphics: 40%
Sound: 60%
Replay/Extras: 60%
Gameplay: 20%
Family Friendly Factor: 70%

System: Nintendo 3DS
Publisher: Red Wagon Games
Developer: Double Tap Games
Rating: 'E10+' for Everyone 10+
{Mild Violence}
Want more info on this product, the company that made this product?
Set web browser to:
Link


Got a question, comment, or a concern regarding this review?
Email them to:
GameReviews@familyfriendlygaming.com