The Nut Job
SCORE: 85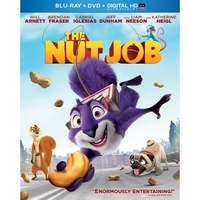 Every time someone pitches a product to Family Friendly Gaming - they put their best foot forward. They tell us why their product is so great. They do what they can to sweeten the pot - so to speak. Many times the hype and promotion do not match the product. Some days I feel like they should pay us for listening/reading their pitches.
The Nut Job is one of those rare products that lives up to the hype. In fact it goes beyond the hype. This is one funny movie. The cadence of the comedy is perfect. The talent of the voice actors shines through the nice animations of the humans and animals.
There are a couple of things going on in The Nut Job. Humans gangster like characters own a nut shop. This said nut shop is across the street from the bank. The humans are digging a tunnel to break into the bank vault and steal the money. They plan on replacing the money bags with bags of nuts.
The animals are trying to dig into the nut shop to get the nuts so they can have food for winter. Since their already low stock was blown up and burnt to a crisp. The main character Surly is a squirrel. A rather self center, self absorbed do it myself kind of squirrel. He eventually learns team work thankfully.
Some of the stand out voices in The Nut Job are Will Arnett, Brendan Fraser, Gabriel Iglesias, Jeff Dunham, Liam Nelson, and Katherine Heigl. They make these characters very believable. Especially when Surly is denied a trial, and when another character is trying to kill him.
Kids and adults can enjoy The Nut Job. I loved the saying: "life is there for the sharing." The Nut Job does contain some peril, violence, and rude humor. Things like passing gas jokes, threatening of lives, trying to kill certain animals, and more. All in all I found The Nut Job to be an enjoyable movie to watch.
- Paul
Graphics: 85%
Sound: 85%
Replay/Extras: 85%
Gameplay: 90%
Family Friendly Factor: 80%

System: Blu-ray/DVD
Publisher: Universal
Developer: Gulfstream Pictures, Red Rover International, ToonBox Entertainment
Rating: 'PG' for Parental Guidance Suggested
{Mild Action and Rude Humor}
Company provided product/span>



Want more info on this product, or the company that made this product?
Set web browser to:
Link
Got a question, comment, or a concern regarding this review?
Email them to:
pbury@familyfriendlygaming.com