Super Monkey Ball Banana Splitz
SCORE: 85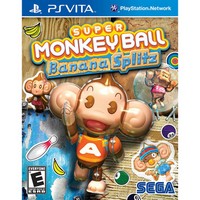 Super Monkey Ball Banana Splitz is a sleeper hit on the Playstation Vita. While not the best Super Monkey Ball game in the franchise, it is a solid title that represents the brand. I saw this hand held game on clearance and decided to pick it up. Super Monkey Ball games have a good image with Family Friendly Gaming Nation.
Super Monkey Ball Banana Splitz looks fantastic. The graphics are bright, colorful, fun, fresh, smooth, and exceptional. The details are great. The monkeys look great. The levels, and bananas also look great. There is some mild violence in some of the mini games.
The monkeys in Super Monkey Ball Banana Splitz are so happy. It reminds me of being a kid and not having to deal with overtaxation, government oppression, radicals trying to push messed up agendas in regards to the environment, and more. There are so many problems we face on a daily basis, it is nice to relax for a few minutes in a fantasy world where monkeys roll around inside balls.
Super Monkey Ball Banana Splitz is sort of like hamsters and how they roll around in their balls. Except they would not collect bananas, or play mini games like bowling. On the topic of mini games, Super Monkey Ball Banana Splitz does not contain many. The ones that are here are generally lame too. Bowling is one of the few that stand out.
The main puzzle levels is where families will get their moneys worth out of Super Monkey Ball Banana Splitz. One hundred different levels that will challenge your skills. I wish there is a way to skip a level here or there when I got stuck. I could retry until I beat it, or just give up. That is the one major flaw with this franchise.
There is very little about Super Monkey Ball Banana Splitz that feels original or new. Many of the levels have that feeling like we have been there before. The same goes for the few mini games. There is an Ad Hoc mode for up to four players. The gyro controls work great. Or you can use the joystick if that is your preference.
- Sam
Graphics: 90%
Sound: 90%
Replay/Extras: 90%
Gameplay: 80%
Family Friendly Factor: 75%

System: PS Vita
Publisher: Sega
Rating: 'E' for Everyone
{Comic Mischief}
Want more info on this product, the company that made this product?
Set web browser to:
Link


Got a question, comment, or a concern regarding this review?
Email them to:
GameReviews@familyfriendlygaming.com