Start the Party
SCORE: 57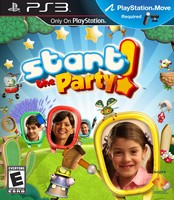 I wondered why the Playstation Move never really caught on. After all it was better than the Wii Remote. Sure it was not as good as the Kinect, but it should have resonated. Start the Party is the perfect example of what Sony did wrong. They make a "family" game, but they make it edgy, offensive, and to try and entice hardcore gamers. Here is the problem, hardcore gamers won't touch Start the Party because it is not full of disgusting content. Families won't touch Start the Party because it has too much offensive content for them.
So this is where Start the Party finds itself. I was able to pick it up extremely cheap. Even then my personal spending money was wasted on this Playstation 3 game. The one consolation prize I have is your family can avoid this game. The ESRB must have been really kind to their donor Sony by giving this game an 'E' for Everyone rating. Start the Party should receive an 'E10+' for everyone ten years old and older.
The gross sounds in Start the Party are at the level of a Wario game. Maybe a bit higher. Comments by the narrator (which are repeated ad nauseam) can be funny or offensive. It depends on your perspective, background, training, and lenses. I found most of the comments to be a waste of air.
Most of the mini games in Start the Party have us whacking something. Its like they had a few good ideas for whacking things, and then added a couple more. The final step was to release it. It does not take long to play each of the mini games in Start the Party. Not one of them stuck out in my mind. Not one of them are something I would ever want to replay.
The excessive amounts of violence, and blood are evidence as to why Start the Party needs a higher ESRB rating. I am not holding my breath for the ESRB to do the right thing. After all Family Friendly Gaming has had interview questions in their possession for 2-3 years now. Somehow they can't even figure out how to say: "No comment."
If you see Start the Party in the bargain bin, or a really low price online - keep walking/surfing. This game exhibits what is wrong with games Sony tries to falsely label as family friendly. Start the Party is an affront to all of us who support family friendly video games.
- Paul
Graphics: 55%
Sound: 50%
Replay/Extras: 60%
Gameplay: 65%
Family Friendly Factor: 55%

System: PS3
Publisher: Sony
Rating: 'E' for Everyone
{Comic Mischief, Mild Cartoon Violence, Animated Blood}
Want more info on this product, the company that made this product?
Set web browser to:
Link


Got a question, comment, or a concern regarding this review?
Email them to:
pbury@familyfriendlygaming.com