Skater Cat
SCORE: 78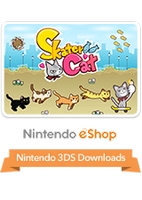 I remember Nintendo complaining about apps a few years ago. Now they are allowing apps, and app like games on their systems. Everything about Skater Cat screams app. We can get three medals in a level. So many medals are needed to open the next world. Skater Cat feels just like an app.
Is that a good thing or a bad thing? I lean on the good side myself. I like Nintendo opening up the Nintendo 3DS to apps. There are plenty of good ones, and the market will decide what works and what does not work. I see plenty of possibility with Skater Cat. Especially considering how long the levels are.
Skater Cat is quirky in a way. We have a cat on a skateboard. But this parkour game is not just a runner. You can actually stop, and go backwards (just a bit). Players also have a double jump to get over longer chasms. Along the way you will also herd other cats toward the end location.
I enjoyed most of the music in Skater Cat. Some of the cat sounds can feel like fingernails on chalk boards. The dogs in Skater Cat look like spiked rocks rolling towards you. They range in size, but never in irritation. I always wanted to avoid them as quickly as possible. Which reminds me - Skater Cat is very kind to families. You can take numerous hits in Skater Cat without dying.
Skater Cat fits the indie scene masterfully well. The art work, style, and character size all scream indie game. Which is cool. Families that are interested in parkour runners should take a look at Skater Cat. Especially if your family members have problems playing the other parkour runners. Skater Cat is much easier – well until you have to collect enough medals to unlock additional worlds.
- Frank
Graphics: 73%
Sound: 79%
Replay/Extras: 80%
Gameplay: 80%
Family Friendly Factor: 78%

System: Nintendo 3DS
Publisher: Teyon
Developer: Fun Unit
Rating: 'E' - Everyone
{Mild Fantasy Violence}
Company Provided Product



Want more info on this product, or the company that made this product?
Set web browser to:
Link
Got a question, comment, or a concern regarding this review?
Email them to:
GameReviews@familyfriendlygaming.com