Ragnarok Odyssey Ace
SCORE: 69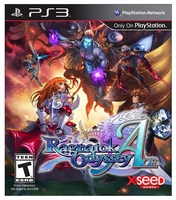 Ragnarok Odyssey Ace is a Monster Hunter type of game on the PS Vita and Playstation 3. Not only has this game moved from the PS Vita to the Playstation 3, but it has Cross Save. Which means you can save to the cloud on the PS3, and pick it up on the PS Vita. Or visa versa.
Ragnarok Odyssey Ace is a world full of false gods and goddesses. No reinforcement of the Christian belief set is in this game. Unless you count doing your quests to the best of your ability. But then players are beating one quest to open up additional ones. Completing everything in one chapter to make it to the next one.
Ragnarok Odyssey Ace excels in items, and their variety of uses. The same goes for cards. The tonnage of items in Ragnarok Odyssey Ace is staggering. Those that enjoy digging into all of the items, monsters, and classes will find weeks of replay in Ragnarok Odyssey Ace. As long as you are into this kind of a game.
The camera in Ragnarok Odyssey Ace still is a bit of a problem. As are the limitations in many of the quests. There is additional content in Ragnarok Odyssey Ace. If you played Ragnarok Odyssey, then you will repeat many of the same quests and chapters again.
Certain female characters could have dressed more modestly. There are a lot of hacking and slashing violence. The religious content in Ragnarok Odyssey Ace directly contradicts and attacks the Christian faith. Bad language, blood, and crude humor round out the content that will offend families. I notice the ESRB found more descriptors this time around than the first time.
Ragnarok Odyssey Ace does contain a lengthy storyline, and plenty of items, cards, and skills to find. Being able to play on both the PS3 and PS Vita is a neat treat. I wish it had not taken this long for Ragnarok Odyssey Ace to be released.
- RPG Master
Graphics: 59%
Sound: 62%
Replay/Extras: 90%
Gameplay: 77%
Family Friendly Factor: 58%

System: PS Vita/PS3
Publisher: XSeed Games
Developer: Game Arts
Rating: 'T' - Teen
{Crude Humor, Fantasy Violence, Language, Mild Blood, Suggestive Themes, Use of Alcohol}
Company Provided Product



Want more info on this product, or the company that made this product?
Set web browser to:
Link
Got a question, comment, or a concern regarding this review?
Email them to:
GameReviews@familyfriendlygaming.com