Piano Notes Pro - Sight Reading Tutor
SCORE: 68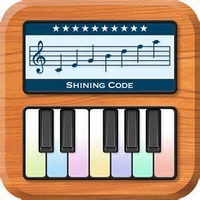 Do you have children taking piano lessons? The cost of those lessons can be really high. What if your child is not into it and you are partially through? Are you out all the money, or can you get some back? Don't you wish there was a cheaper way to see if your child is into playing the piano?
This is where someone shouts: "There is an app for that!!" And they would be right. Piano Notes Pro - Sight Reading Tutor is the app on the iPad that can help teach your child the piano. These are not structured lessons though. And the app can be a bit on the confusing side at first.
There are freaky effects in Piano Notes Pro - Sight Reading Tutor that will change the keys to different colors. The theme of the piano can also have its color changed. Plenty of different options in Piano Notes Pro - Sight Reading Tutor.
Finding the right option to learn how to play the piano can be difficult at first. I ran into issues trying to find lessons. I was expecting some kind of do, ray, me thing. Or put your fingers on these keys, and use this finger on these keys, and so on.
When you are expected to play certain notes Piano Notes Pro - Sight Reading Tutor will show you if you are higher or lower on the scale. It is then up to you to go the right direction on the piano keyboard. Once you hit the right note, you get points. There are no penalties for making mistakes.
The lack of penalties means you can crank away on the simulated piano until you find the right note. I actually saw children doing this. Which meant they wound up learning nothing. They were playing on a piano with no concept of what they were doing. A piano teacher might rap you on the hand with a ruler. Piano Notes Pro - Sight Reading Tutor does not draw your attention to messing up on a lesson. I wish it had done something to let kids know they needed to focus.
- Shirley
Graphics: 60%
Sound: 75%
Replay/Extras: 70%
Gameplay: 65%
Family Friendly Factor: 70%

System: iPad
Publisher: Shinning Code
Developer: Shinning Code
Rating: '4+' - 4+
Company Provided Product

Want more info on this product, or the company that made this product?
Set web browser to:
Link




Got a question, comment, or a concern regarding this review?
Email them to:
GameReviews@familyfriendlygaming.com