NES Open Tournament Golf
SCORE: 69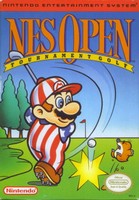 One of the downloadable titles I got for being an ambassador of the Nintendo 3DS was NES Open Tournament Golf. I had done little with it for many months. Why? I could not figure out how to hit the ball. So I had to research how to actually play this game. I found instructions that allowed to actually make contact with the ball - most of the time. The controls are still difficult to wrangle. Making NES Open Tournament Golf ultimately no fun in my book.
The graphics look decent for a game from this time era. There is not much Mushroom Kingdom content in NES Open Tournament Golf, but this was way before Nintendo focused their titles in that manner. The sounds are also decent. I enjoyed the music while I was trying to hit that ball. They were not good enough to relax me while NES Open Tournament Golf frustrated me to no end.
NES Open Tournament Golf contains a couple of different modes, courses, and characters. There is not much diversity between them though. I am thankful I did not pay any money to purchase NES Open Tournament Golf. Although I did have to pay much more money for my Nintendo 3DS than those who waited a few months. I would have preferred receiving my money back instead of games like NES Open Tournament Golf.
Not every old school game was a good one. Maybe back then we would have been more forgiving before we played so many games that control so much better.
- Paul
Graphics: 79%
Sound: 79%
Replay/Extras: 81%
Gameplay: 30%
Family Friendly Factor: 77%

System: NES/Nintendo 3DS
Publisher: Nintendo
Rating: 'E' for Everyone
Want more info on this product, the company that made this product?
Set web browser to:
Link


Got a question, comment, or a concern regarding this review?
Email them to:
pbury@familyfriendlygaming.com