Frankenweenie
SCORE: 62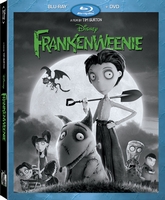 We received a reader request to review Frankenweenie. We had skipped covering this Tim Burton movie because of its horror theme and connection. We discussed it, prayed about it, and ultimately decide to jump into the electrified water. This movie is strange on so many levels.
Frankenweenie is black and white. No color. So it is a throwback in that way. It is also a throwback in terms of the era when kids were respectful to their parents. Our kids are respectful to us, but that is due to upbringing. And being involved in their lives.
Many of the characters in Frankenweenie are creepy looking. They also sound creepy. Horror film buffs will find multiple references to a variety of horror films from the past. There is strange stuff like reading omens from cat feces.
Stop motion is the style of animation in Frankenweenie. It does not always flow well. At times it looks and feels choppy. Maybe the lack of color helps with this. Emotion is exhibited quite well thanks to the work done on the puppets used in Frankenweenie.
At its core Frankenweenie is a story about wanting to cheat death. It is one of those times where someone rebels against God. They do not trust God that the timing of death was perfect. In some ways it is trying to play God themselves. Ultimately in Frankenweenie it causes all kinds of problems.
The parent characters in Frankenweenie are really weak. Which is a shame to see. There never is any real punishment for the misdeeds committed in Frankenweenie. There is an interesting mild moment of how important science is. Ultimately the science teacher is too arrogant, rude, and narcissistic to reach many. He does expose the belief that he needs to brainwash the children into his belief set. This film may give nightmares.
- Yolanda
Graphics: 50%
Sound: 60%
Replay/Extras: 80%
Gameplay: 65%
Family Friendly Factor: 55%

System: DVD/Blu-ray(tested)
Publisher: Disney
Developer: Disney
Rating: 'PG' - Parental Guidance Suggested {For Thematic Elements, Scary Images and Action}

Want more info on this product, the company that made this product?
Set web browser to:
Link


Got a question, comment, or a concern regarding this review?
Email them to:
craftiemom@familyfriendlygaming.com