Fifa Soccer 13
SCORE: 73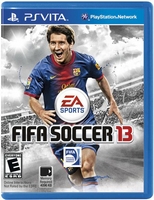 There has been much ado about Fifa Soccer 13 on the PS Vita being a reskin of the previous game. Which may be the reason I found Fifa Soccer 13 on clearance. There is something wonderful about finding a brand new game for under six dollars. What makes it better is realizing it was worth the money.
Fifa Soccer 13 on the Vita looks good for a hand held game. The guys are small, except when the game zooms in for their celebrations. If you are familiar with last year's Fifa game on the Vita, then expect the same look and feel. I do enjoy that special effect when running toward the goalie and there is no one else in front of your player.
There are a couple of songs in Fifa Soccer 13. Not many though. The announcers are good. Songs can be turned off one at a time. So if you are not into that music, you can shut it down. I enjoy listening to the sound bytes from the announcers. Their timely comments reflected the action on the field. Like in the game I won 19-0. Near the end the announcers commented that the outcome had been decided a long time ago.
Fifa Soccer 13 is a bit on the easy side. I found myself dominating a high percentage of the time. I think the kids call that uber pawnage or something like that. Fifa Soccer 13 is a little too easy in my opinion. The computer controlled characters lay off, and let you run out the clock, or run right by them on the way to the goal.
The touch screen scoring mechanic is one of the best parts of Fifa Soccer 13. I love running towards the goal, and tapping on the screen where I want to shoot the ball. This is brilliant and works amazingly well. If you like scoring a lot of goals then you will enjoy Fifa Soccer 13.
I did not find the controversial and divisive deviant kissing bug in Fifa Soccer 13. I am unclear whether it is in this game or not. If I find out, the review will be updated when it goes online.
- Frank
Graphics: 80%
Sound: 75%
Replay/Extras: 70%
Gameplay: 70%
Family Friendly Factor: 70%

System: PS Vita
Publisher: EA Sports
Developer: EA Canada
Rating: 'E' - Everyone

Want more info on this product, the company that made this product?
Set web browser to:
Link


Got a question, comment, or a concern regarding this review?
Email them to:
GameReviews@familyfriendlygaming.com