Dance Central
SCORE: 66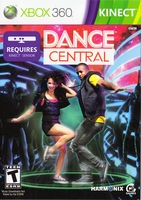 My Dance Central journey is coming to a close. I am so thankful I had the financial resources to purchase the older Dance Central games after receiving Dance Central 3 for review from Harmonix. The review for Dance Central 2 was in Family Friendly Gaming #75. Now it is time to review the game that started it all.
Dance Central is a fantastic dancing game as long as you like worldly club music. Plenty of rap, techno, and R&B in this Xbox 360 Kinect home console title. The lyrics, attitude towards women, selfishness, and ugliness of the lyrics is why this franchise receives the 'T' for Teen ESRB rating. And remember they are being lenient. The sexually suggestive content was not mentioned in their descriptor but it is definitely in this exercise video game.
The best part about Dance Central is the sweat you will get from dancing to a couple of songs. Some of the dancers moves are difficult to pull off. At least for me. I was always into power at the gym. The dancers have a variety of different attitudes. I noticed arrogance, boasting about oneself, encouragement to the player, and connections to the songs being played.
The dancers look realistic in Dance Central. There are a variety of different ways older family members can play Dance Central. They can learn the dance moves with break it down. They can compete, just play the song, and more. Dance Central has way too many menu screens and that is something that was carried across to Dance Central 2.
In my mind Dance Central is a solid game, and a solid franchise. It is below the Just Dance franchise mainly because Dance Central does not provide for families. It excludes the younger members of the family who can also use some exercise. Dance Central is great preparation for going out to clubs.
- Paul
Graphics: 60%
Sound: 50%
Replay/Extras: 81%
Gameplay: 80%
Family Friendly Factor: 60%

System: Xbox 360
Publisher: Harmonix
Developer: Harmonix
Rating: 'T' - Teen
{Lyrics}

Want more info on this product, the company that made this product?
Set web browser to:
Link


Got a question, comment, or a concern regarding this review?
Email them to:
pbury@familyfriendlygaming.com