Dance Central 2
SCORE: 68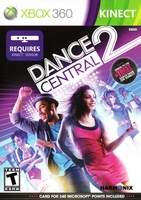 I have said it before, and I will say it again. We like to check out earlier versions of franchises. Especially when our first exposure to a franchise is on say the third game. Which is why I went out and purchased Dance Central 2. I was curious to see the roots of this Kinect franchise.
After dancing to four or five songs in Dance Central 2 I started to sweat. That is by far the best part of this franchise. Getting some exercise while listening to music. The music picked for Dance Central 2 is not the kind I normally listen to. Many of the songs contain bad lyrics you do not want children hearing. I am an adult, and I do not want to hear such selfishness, rudeness, and ugliness.
Dancing can easily get into sexual innuendo. Dance Central 2 is no different. What is shocking is how the ESRB missed it. Well we know they are not perfect - as their mountain of mistakes exhibit. Certain female attire could have been better. Modesty in the way the girls dress is not something this game celebrates. Even on easy mode some of the dance moves are difficult to emulate.
I appreciate modes like Break It Down in Dance Central 2. These will teach you the various dance moves used in a particular song. I also like all of the visual special effects, and the option to change dancers for any song. Being able to import songs from Dance Central is pretty cool too.
There are way too many screens in Dance Central 2. It takes forever to get to a song, especially the first time you do anything. I wish Harmonix had picked safer songs for families. Or if they could make a family version of Dance Central. Maybe they will do something in a future release.
- Paul
Graphics: 55%
Sound: 59%
Replay/Extras: 83%
Gameplay: 84%
Family Friendly Factor: 61%

System: Xbox 360
Publisher: Harmonix
Developer: Harmonix
Rating: 'T' - Teen
{Lyrics}

Want more info on this product, the company that made this product?
Set web browser to:
Link


Got a question, comment, or a concern regarding this review?
Email them to:
pbury@familyfriendlygaming.com