Crush 3D
SCORE: 80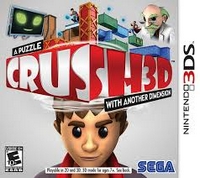 Puzzle games do one important thing - they exercise our brains. They teach us to approach problems from a different perspective. Crush 3D is the perfect example of this. This Nintendo 3DS game is part 2D, and part 3D. We shift the game to progress from place to place. For example there is a platform too high to reach. Set the view to overhead and then shift from 3D into 2D. Walk from the one you are on to the higher one - since on the 2D plane they are on the same level. Shift back to 3D and continue along your way.
Crush 3D grades players in a variety of different things. Did you use the hint to progress through the level? Did you collect all the marbles? Did you get the trophy? Did you get the memory item? And so on. Any of the forty levels can be replayed.
The music and sense of humor are two of the best parts of Crush 3D. The music is fun, and the humor in Crush 3D is something we can all relate to. There are some mild innuendo statements here and there in this hand held game. The majority of the humor is safe for the entire family.
Going into this man's brain is an interesting facet of Crush 3D. Especially when the professor's many failed experiments are mentioned at the beginning of the game. We run into enemies in Crush 3D like cockroaches. Players can crush them on brick backgrounds. They leave a nasty juicy smear in this Nintendo 3DS game.
Crush 3D is a little on the short side. This is compensated with all kinds of content to unlock. Plus breezing through the level does not provide all of the unlockable content. So players need to play through every level completely to unearth all of the different content.
My lasting impression of Crush 3D is very positive. I enjoyed almost every aspect of this game. Squishing bugs was the one thing I could have done without.
- Yolanda
Graphics: 68%
Sound: 85%
Replay/Extras: 80%
Gameplay: 85%
Family Friendly Factor: 80%

System: Nintendo 3DS
Publisher: Sega
Developer: Zoe Mode
Rating: 'E10+' - Everyone 10+
{Animated Blood, Mild Cartoon Violence}

Want more info on this product, the company that made this product?
Set web browser to:
Link


Got a question, comment, or a concern regarding this review?
Email them to:
craftiemom@familyfriendlygaming.com