Color Zen
SCORE: 94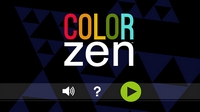 Color Zen is a near perfect video game on the Wii U. It has almost everything going for it. There is just one thing I am not big on in Color Zen. I will get into that in just a little bit. First this downloadable home console video game is selling for $3.99. Nice price for 460 levels.
Yes I did say 460 levels. You play Color Zen at your own pace. You can wing it, or plot out your moves in this colorful puzzle video game. There are plenty of colors in Color Zen to play with. And play with them you will. Matching objects of the same color will fill the screen with that color. It won't change the color of objects on the screen of a different color though.
The goal in Color Zen is to color the entire screen with the color of the frame of the screen. So lets say the frame is light blue. We need to make sure the last match we make is light blue. Later on there are other colors like white and black which have different game play mechanics. Black will remove a color it touches, and white will change into whatever color touches it.
I had a blast playing Color Zen. Rings within rings, circles within boxes, and more start to become challenging. Only certain objects can be moved. Finding the right combination in Color Zen becomes more and more complex and difficult. Even when I failed I did not mind trying again.
Color Zen is safe for the entire family. I see on Cypronia's game page that Color Zen is coming to the Nintendo 3DS. That should be awesome for owners of that handheld. Cypronia should reach a larger audience on the 3DS than the Wii U. With that said I like Color Zen on the Wii U.
Remember I said there was one thing I did not like about Color Zen? Here it is - the music. It is supposed to be relaxing. I had a completely different reaction to the music. I found it to be creepy, odd, and mildly disturbing. This is the only thing that held Color Zen back from earning a seal of approval. If you like the music, then you will find Color Zen to be a perfect video game.
I need to address one final issue relating to Color Zen. I know many of our readers are going to see zen in the name of this game and immediately dismiss the game. I looked for eastern religious content in Color Zen, and did not find any. Buddist colors are used in Color Zen, but there are also additional colors. So I personally do not draw any connections. Maybe I am naive, maybe I am clueless, but I did not see a connection. With that said if you feel a conviction from the Holy Spirit to avoid this game, or feel your faith would be damaged by playing it I completely support your decision.
- Paul
Graphics: 100%
Sound: 70%
Replay/Extras: 100%
Gameplay: 100%
Family Friendly Factor: 100%

System: Wii U
Publisher: Cypronia
Developer: Cypronia, Large Animal
Rating: 'E' for Everyone
Company provided product




Want more info on this product, or the company that made this product?
Set web browser to:
Link
Got a question, comment, or a concern regarding this review?
Email them to:
pbury@familyfriendlygaming.com