Cloudbuilt
SCORE: 63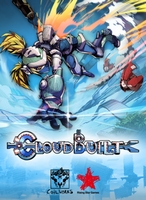 Cloudbuilt is an one unique looking game. The cel shaded graphics with crowded looking areas will thrill some, and make others say: "YUCK!" The controls will definitely irritate, frustrate, aggravate, annoy, and anger almost every gamer that plays it.
Since when does a hard game lean on the crutches of poor controls? Family Friendly Gaming has been informed that a controller set up is being worked on. Whether that improves the overall experience or not is unknown at this time. Right now players need to be an octopus to utilize all of the controls.
What happens when you are not able to utilize all of the controls in Cloudbuilt properly? This speed game becomes very slow, methodical, and boring. You may start to count the glitches you encounter. Like running along a wall, and your character falling to their doom.
My favorite irritation with Cloudbuilt was running to a ledge, and jumping across a chasm. Except the game thought I wanted to hang off the ledge I was trying to jump from. Ah good times that lead to a session in an anger management group.
I really wish Cloudbuilt had been released on one of the home consoles. Why? Because they have standards that would require many of these things to be cleaned up. Plus a controller would be the immediate control scheme at the launch of the game.
Cloudbuilt shows some creativity, and originality. There is also violence - that really did not even need to be in this Personal Computer video game. Hopefully Cloudbuilt will be like Minecraft and receive multiple upgrades, improvements, and enhancements.
- Working Man Gamer
Graphics: 65%
Sound: 70%
Replay/Extras: 70%
Gameplay: 40%
Family Friendly Factor: 70%

System: Personal Computer
Publisher: Rising Star Games
Developer: Coilworks
Rating: 'E10+' - Everyone 10+
{Fantasy Violence}
Company provided product



Want more info on this product, or the company that made this product?
Set web browser to:
Link
Got a question, comment, or a concern regarding this review?
Email them to:
GameReviews@familyfriendlygaming.com