Bit Boy!! ARCADE
SCORE: 71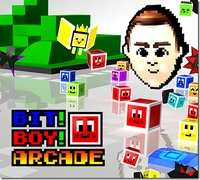 It can be easy to go through the motions while playing a video game. We have reviewed thousands of products here at Family Friendly Gaming. Too often games are clumped in with genres, styles, and previous kinds of games. What many games are missing is charm, character, and personality.
Bit Boy!! ARCADE is one Nintendo 3DS game that is stuffed full of charm, character, and personality. The game designer is talking to his creation. They discuss things in a way that feels real. The depth of the story in Bit Boy!! ARCADE is fantastic.
Bit Boy!! ARCADE shines in the story and personality. The graphics are very retro, and blocky. The 3D effects in Bit Boy!! ARCADE are insane. Once all the blocks are collected in a phase we can then destroy the various enemies. They explode into nothingness pretty quickly.
Language is another issue families will have with Bit Boy!! ARCADE. Which was really not needed. The same goes for the less than truthful portions of the dialogue. Or letting someone believe something that is not true. Failing to correct them when you know the truth, and they are going down a rabbit hole.
The controls can take some getting used to. Press the buttons, or the directions on the D-pad. The circle joystick is for moving the camera around. Every so often the controls would trip me up. Usually it led to a death in the game. Continues are done via the play coins on your 3DS/2DS device. So make sure you have built those up.
My biggest problem with Bit Boy!! ARCADE is the phases get boring. Having to play in the same levels so often gets dull. I understand there are mild shifts to the levels, and everything in the level gets shifted around. But having to search the same levels (aka phases) over and over again felt too repetitive.
All in all Bit Boy!! ARCADE has a lot of charm. I love the personality, and dialogue. The ideas in Bit Boy!! ARCADE are fresh and interesting. Bit Boy!! ARCADE is a downloadable only video game so you will not be able to go to a store and purchase it.
- Paul
Graphics: 65%
Sound: 68%
Replay/Extras: 84%
Gameplay: 70%
Family Friendly Factor: 70%

System: Nintendo 3DS
Publisher: Bplus
Developer: Bplus
Rating: 'E' - Everyone
Company Provided Product

Want more info on this product, or the company that made this product?
Set web browser to:
Link



Got a question, comment, or a concern regarding this review?
Email them to:
pbury@familyfriendlygaming.com