WWE All Stars
SCORE: 59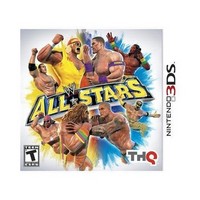 I bought WWE All-Stars last year on the Nintendo 3DS. I knew things were bad at THQ, but as I write this they are filing for bankruptcy. So playing WWE All-Stars went from playing a game for a review, to playing a game to see if there are hints as to why THQ fell apart. I can see why this company went under with games like this one.
THQ had so much going for it with WWE All-Stars. They have a huge audience that watches professional wrestling. They have a 3D hand held video game without any 3D glasses. They took the most popular wrestlers from a variety of different eras. With all of that going for them WWE All-Stars falls flat on its face like Ric Flair.
Violence and little clothing are a major part of professional wrestling. Those aspects are brought across to WWE All-Stars as well. Players have to seriously pummel their opponents before they can pin them, or escape a cage. Different match types require different ways to win.
The 3D effects in WWE All-Stars are neat. But not as good as I hoped for. The ring entrances are horrible in WWE All-Stars. The bulked up visuals for the characters is neat to see, even if it is not very realistic.
The worst part about WWE All-Stars is the controls. I can forgive a lot of things in a video game. But the poor controls will kill any game. I found WWE All-Stars nearly unplayable due to poor controls. Players have to repeat many of the same moves. The boredom of this wears down the players at a near immediate level.
The flow in WWE All-Stars is off as well. Players can do reversals to moves if they hit the right key at the right time. This rarely worked for me. The computer however does not have that problem. Imagine spending ten minutes working over an enemy only to wind up losing. All of that work has be done yet again for things like championship runs.
The language issues is one of the disappointing aspects in WWE All-Stars. I wish the game had been more thoughtful of families. Which is probably what helped earn it that Teen rating. Pass on WWE All-Stars.
- Working Man Gamer
Graphics: 50%
Sound: 60%
Replay/Extras: 79%
Gameplay: 47%
Family Friendly Factor: 58%

System: Nintendo 3DS
Publisher: THQ
Rating: 'T' for Teen
{Alcohol Reference, Mild Language, Violence}
Want more info on this product, the company that made this product?
Set web browser to:
Link


Got a question, comment, or a concern regarding this review?
Email them to:
GameReviews@familyfriendlygaming.com