Toki Tori 2
SCORE: 92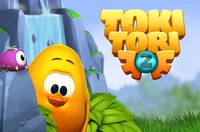 Toki Tori 2 is the most impressive downloadable title on the Wii U to date. This little puzzle game is stuffed with personality. This rotund yellow bird is out and about when this black ooze shoots up. He goes through a massive forest solving puzzles along the way.
Thankfully there is more to do in Toki Tori 2 than just solve puzzles. We can use the Wii U Gamepad to take pictures of animals and objects in the game. We can float happily inside bubbles to reach higher areas. We can allow even larger birds to carry us up to their nests. We can also help frogs eat insects. And so much more.
The bright and colorful look to Toki Tori 2 is wonderful. I love how crisp, clean, and clear the graphics are in this instant gem. The game play in Toki Tori 2 is non violent. We avoid violence in this game. We can accidentally hurt our main character in a variety of ways. He will re-appear at the last continuation point.
The music and sounds in Toki Tori 2 is amazing. I love the bird singing portions. These little birds will teach us new songs that do a wide variety of different things. All of them are very important to the game play. Toki Tori 2 has a chipper and upbeat feel to it. The happiness in Toki Tori 2 is contagious.
The one drawback I found in Toki Tori 2 is there are portions where players can get stuck. You have to use your brain to find the way out. At times the solution may not make much sense. Sometimes patience was the answer. Other times it was resetting the area.
Toki Tori 2 is an amazing puzzle game that I am very thankful for. I was able to approach problems from a variety of different angles thanks to this Wii U game. I can only imagine what this franchise will be like in the future. A bright future it will be.
- Paul
Graphics: 90%
Sound: 92%
Replay/Extras: 89%
Gameplay: 95%
Family Friendly Factor: 92%

System: Wii U
Publisher: Two Tribes
Rating: Rating: 'E' - Everyone
Company provided this product

Want more info on this product, or the company that made this product?
Set web browser to:
Link

Please click on one of these picture(s) to purchase this product and support us. Family Friendly Gaming is given a 4-5% commission on all orders.


Got a question, comment, or a concern regarding this review?
Email them to:
pbury@familyfriendlygaming.com