The Secret Society Hidden Mystery
SCORE: 59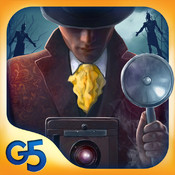 Free games are all the rage with companies these days. Problem is they are not really truly free. The Secret Society - Hidden Mystery is a hidden object iPad game. It is free to download and free to play. Well for a few minutes anyways. Then you have pay money or wait a select time. This is what kills The Secret Society - Hidden Mystery. It does not give players enough time to get addicted to it, but expects money to be sent their way. I know many families who would rather pay a one time fee and be done with it. Then they can play all of the game at their own pace.
The Secret Society - Hidden Mystery goes off the concept that enough players will be impatient and pay money over and over again to see more of the game. The payday is bigger if multiple players pay multiple times. The only plus is families can try The Secret Society - Hidden Mystery before they sink money into it.
Like so many other hidden object games, The Secret Society - Hidden Mystery has the player find out they have some magical power. They use that power to find the missing relative. I know I should have been paying closer attention while the story was rambling on and showing me how to quickly use up my resources so it could charge me money. Apologies for the cynicism. It gets frustrating see all of these companies trying to milk consumers under the banner of free. It hurts the name of real free apps that are out there.
The Secret Society - Hidden Mystery looks okay, and even gives us a variety of hidden objects to find. There are also religious symbols from a variety of different beliefs in The Secret Society - Hidden Mystery. I had to go back to the same screens and mini games over and over again. Then this butler dude was bugging me to complete these missions for him. Which I could not do because I was low on energy. I suppose it was exhausting for my character to look for hidden objects in these pictures. Or I did not have enough gems to unlock a new picture. Guess what? Yup, pay them money to get more gems.
The storyline is so tired in this genre that I never really cared about it. I have lost track of how many hidden object games use this kind of a storyline. The only thing that helps The Secret Society - Hidden Mystery stick out from the crowd is how it charges the player real world money to earn resources. Ultimately The Secret Society - Hidden Mystery limits how long a player can play the game. That means either you pay money or delete it from your device. I will go with the second choice now that I done with this review.
- Mark
Graphics: 69%
Sound: 71%
Replay/Extras: 63%
Gameplay: 30%
Family Friendly Factor: 60%

System: iPad
Publisher: G5 Entertainment
Rating: '4+' for 4+
Want more info on this product, the company that made this product?
Set web browser to:
Link


Please click on one of these link(s) to purchase this game and support us. Family Friendly Gaming is given a 4-5% commission on all orders.

Got a question, comment, or a concern regarding this review?
Email them to:
pbury@familyfriendlygaming.com