Tearaway
SCORE: 88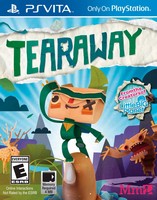 There are video games that show the potential of a system. Previous PS Vita games have shown some of what could be done on this hand held. Tearaway breaks the banner wide open like a high school football team taking the field. Playing this game is like learning how to be an octopus – yet it feels natural.
Players use the joysticks, buttons, camera, front touch screen, gyroscope, and back touch screen. It never felt confusing though. In fact it felt totally normal and natural. There were times my poor little brain was trying to figure out how to do multiple things at once. I quickly found how I could put my hands and fingers to accomplish the tasks.
The world in Tearaway is made out of paper. Creativity runs deep in this hand held gem. Players can design their own characters, and objects like crowns in Tearaway. Your finger will poke through the world from the back screen. Please note it is not actually your finger, and you are not physically poking through the PS Vita. This game provides that illusion.
The level of interactivity in Tearaway is extremely high. The player is called the 'You.' You are in the sun looking down upon their world – trying to make a new story out of a story book. You and the iota (game play character) work together in Tearaway. In case you were curious iota is actually a letter with arms, legs, and a head.
The verbal, and written instructions are extremely helpful in guiding the player to their next destination. It was difficult for me to go from place to place though. I immersed myself in this paper fantasy world looking for a variety of hidden objects and secrets. There are so many little touches in Tearaway to marvel at.
Tearaway also provides plans for players to create their very own real world paper animals. I know many of ya'll find animals to be delicious. Please do not eat the paper ones. It is not healthy for you. You will need patience and perseverance to put together any real world paper animals.
Tearaway is one of those games that can help sell a system. I hope Sony has a full court press in terms of their marketing and advertising. Families are one of the audiences Sony should target since they will respond in a positive manner to Tearaway. That is in their hands. I can encourage families to check out Tearaway. Don't worry I am not being paid by anyone at Sony to say that.
Tearaway feels like it transcends the video game industry. It is more than a game. Tearaway is an experience. I hope it is an experience that you will consider trying out on the Playstation Vita.
- Sam
Graphics: 86%
Sound: 88%
Replay/Extras: 85%
Gameplay: 95%
Family Friendly Factor: 85%

System: PS Vita
Publisher: Sony
Rating: 'E' – Everyone
{Mild Cartoon Violence}
Company provided product
Want more info on this product, or the company that made this product?
Set web browser to:
Link
Got a question, comment, or a concern regarding this review?
Email them to:
GameReviews@familyfriendlygaming.com