StoryMaker
SCORE: 89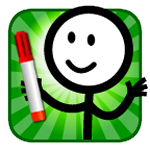 Any other parents out there get exhausted? How many parents have multiple children? How often do all of your kids want your attention at the same time? Ever wish you could be in two places at once? Especially at bed time. StoryMaker is one such app that could help you tell bedtime stories.

The best way of thinking about StoryMaker is it is a slide show maker that lets you attach audio. You build the pages in the book. You add the pictures, add the text, and read it. That way a child can listen to your voice and enjoy a home made book. Older children can read the text for themselves.

StoryMaker includes a variety of different images that can be put on the pages. Parents can also move the images around, change colors and more. The options in StoryMaker are quite extensive. There is a neat little page turning animation in StoryMaker. Even with this it still feels like a slideshow to me. Maybe that comes from my high tech background.

There are a couple of different uses I can see for StoryMaker. It can be used as a scrapbooking app. Families may want to commemorate a summer trip taken to the beach. It can be used to assist in educational development and growth. And it can be used to let you be in two places at once.
I found StoryMaker a very easy iPad app to use. I see all kinds of potential. The only downside is parents have to invest the time on the front end. Your kids may not appreciate the real live thing being replaced by your voice and some pictures. Kids can also be encouraged to create their own stories and record their own voices.
- Paul
Graphics: 81%
Sound: 88%
Replay/Extras: 95%
Gameplay: 87%
Family Friendly Factor: 93%

System: iPad
Publisher: SuperDuper Inc.
Rating: '4+' - 4+
Company provided this product
Want more info on this product, or the company that made this product?
Set web browser to:
Link

Please click on one of these picture(s) to purchase this game and support us. Family Friendly Gaming is given a 4-5% commission on all orders.

Got a question, comment, or a concern regarding this review?
Email them to:
pbury@familyfriendlygaming.com