Sonic Generations
SCORE: 92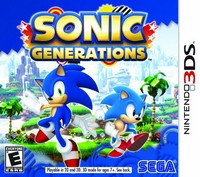 We were so blessed to receive a reviewable copy of the home console version of Sonic Generations. We loved what Sega did with that game. I was very curious about the Nintendo 3DS version of Sonic Generations. So I worked diligently saving money to purchase it. My only regret is it took so long to bring this game to the attention of Family Friendly Gaming Nation.
The 3D effects in Sonic Generations are stunning. Both the 3D levels, and the 2D levels. Both of them look great in 3D on the Nintendo 3DS. Sega did all kinds of cool things in Sonic Generations. We go from the foreground to the background, and back again. We free woodland animals from being trapped in robot controlling shells.
Classic Sonic sounds are found in Sonic Generations. There are also some new fun and fresh sounds that enhance the game play experience. I love some of the conversations in Sonic Generations too. I was laughing at certain characters talking to earlier versions of themselves.
Seeing how this is the hand held version of Sonic Generations, I expected less levels. I was not expecting one hundred missions, and all kinds of unlockable content. I felt like I got my moneys worth out of Sonic Generations. Twenty to forty hours can easily be spent playing Sonic Generations on the Nintendo 3DS.
As players progress through Sonic Generations they are given additional skills. These really help us get through certain areas. The speed in Sonic Generations can be insane at times. Learning where enemies are can be key to success in this hand held video game. Sonic Generations is challenging. It is beatable.
I had a lot of fun playing Sonic Generations. Sega did a wonderful job with this game. I love freeing the animals from enslavement. It reminds me of how many people are enslaved to the lies of the world. Please check this game out.
- Paul
Graphics: 92%
Sound: 90%
Replay/Extras: 98%
Gameplay: 92%
Family Friendly Factor: 88%

System: Nintendo 3DS
Publisher: Sega
Rating: 'E' for Everyone
{Mild Cartoon Violence}
Want more info on this product, the company that made this product?
Set web browser to:
Link


Got a question, comment, or a concern regarding this review?
Email them to:
pbury@familyfriendlygaming.com