Race To The Line
SCORE: 52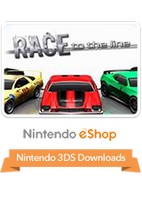 I hate giving people bad news. I prefer playing a video games and loving it. Race To The Line sent me to the bathroom. That kind of extreme reaction to a game is never a good thing. And sadly the bad news I have to pass along. My head is still spinning from how this game made me feel.
The controls in Race To The Line are way too touchy, and the physics are off. It is too easy to turn your car around in Race To The Line. Watching the computer cars swerve all over the road made me wonder if I was in a drunk driver training course.
The graphics in Race To The Line are on the bland side. Below plenty of other racing games on the Nintendo 3DS. Race To The Line looks like an older game to me, but I can not place it. There are various views for the driver. Try and pick one before starting the race - otherwise you will crash into something.
The music is energetic and upbeat. That is until you smash into the right wall, and pinball yourself to the left wall. After that you may hit other vehicles on the road - if they happen to be anywhere near you. Then you will hear your own voice as it reinforces your frustration.
Race To The Line is missing one really important thing. The feeling of speed. I felt like I was racing slugs in Race To The Line on the Nintendo 3DS. This hand held game is slow, and does everything possible to slow you down even more.
Whatever you do - do not turn on the 3D with Race To The Line. It looks pretty until you start to race. Then you will remember my words and wish you had listened to me. If the controls were tightened, and some speed was added - Race To The Line would be a fun game.
- Frank
Graphics: 60%
Sound: 70%
Replay/Extras: 55%
Gameplay: 10%
Family Friendly Factor: 65%

System: Nintendo 3DS
Publisher: Enjoy Gaming
Rating: 'E' – Everyone
Company Provided Product

Want more info on this product, or the company that made this product?
Set web browser to:
Link
Got a question, comment, or a concern regarding this review?
Email them to:
GameReviews@familyfriendlygaming.com