Portal 2
SCORE: 73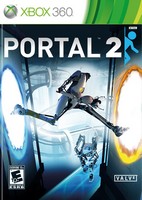 Like so many others here at Family Friendly Gaming, I look for games that are really good deals. I also look for games that Family Friendly Gaming has not previously sounded off on. The Portal franchise fits into that perfectly. I used the Xbox 360 version of this game for this review.
Portal 2 is a first person puzzle game. We have what looks like a gun. This is used to create portals. What is a portal? Think of it as a little shortcut between places. A wormhole, or a Stargate. The same concept. We walk through one portal, and walk out the other one. The key to the levels in Portal 2 is getting to the exit.
A nasty, rude, ugly, and hateful computer tries to stop us. She thinks of us as a lab rat in her maze. She does everything she can to kill us. And the game encourages us to respond in kind. After we make it through all the various mazes.
If first person shooters make you ill, then you will want to pass on Portal 2. The same controls are in Portal 2. We avoid all the mind numbing violence, but have to deal with the same viewpoint. There is some violence in Portal 2.
The worst part of Portal 2 is the computer that is trying to kill us. She has all kinds of nasty rude, mean, and hate filled things to say to us. Portal 2 could easily depress a human being. It was draining on me to hear all of those insults. They are not clever, they are not cute - they are mean spirited.
The puzzle mechanics in Portal 2 are amazing. This is where Portal 2 shines. There are hints here and there to help a stuck player. The physics in Portal 2 is stunning. I needed to get across a wide divide. So I put one portal on the far side, and one deep down in this pit. I jump into the pit, and come flying out the other portal. This propels me to the far side of the room, which was my destination.
Portal 2 is a great game for expanding how you solve problems. There are numerous puzzles that require the gamer to think in different ways. Portal 2 can get complex and annoying in some levels. Especially if you forget a previously learned skill. Families may want to pay close attention to what is said in Portal 2. I believe this game should have earned a 'T' for Teen rating personally. The high level of bad language definitely warrants it.
- Mark
Graphics: 77%
Sound: 62%
Replay/Extras: 70%
Gameplay: 80%
Family Friendly Factor: 75%

System: PS3/PC/Xbox 360(tested)
Publisher: Valve
Rating: 'E10+' - Everyone 10+
{Fantasy Violence, Mild Language}
Want more info on this product, the company that made this product?
Set web browser to:
Link


Got a question, comment, or a concern regarding this review?
Email them to:
GameReviews@familyfriendlygaming.com