Pokemon Rumble U
SCORE: 66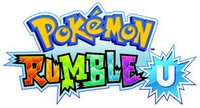 Every time I touch a Pokemon product I understand there are a variety of diverse groups with polar opposite opinions. I know there are those who love Pokemon, and they viciously attack anyone who disagrees with them. I know there are those that absolutely despise Pokemon. Both of these groups let me know how they feel about the franchise, what they agree with in the review, and what they disagree with.
Knowing Pokemon is a lightning rod of controversy I do my best to choose my words carefully. I am far from perfect, and numerous emails remind me of that. :) Pokemon Rumble U struts into Family Friendly Gaming Nation. This downloadable Wii U is going to thrill some, and anger others.
The story in Pokemon Rumble U involves some Pokemon capsules going down the river. I mean that literally. These poor little Pokemon are far from the store. So they work their way back. These do this by going through Battle Arena after Battle Arena.
Up to four family members can work together in Pokemon Rumble U. You can play Pokemon Rumble U on the Wii U by yourself. The computer controls three other characters. The computer is good at fighting, but not so great at helping revive the Pokemon that have lost all their hit points.
The graphics in Pokemon Rumble U have a neat glean and shine to them. There are so many Pokemon in the battles that it can get confusing. I lost my character so many times due to all the chaos. Pokemon use a variety of different powers to destroy one another.
I am not a fan of the Battle Arena only concept. We are on a quest, so we should go down paths. Pokemon Rumble U does provide different goals, and some different kinds of levels. I had to constantly change Pokemon since more powerful characters were earned along the way. There are enough levels in Pokemon Rumble U to warrant the price of admission.

Pokemon Rumble U follow Skylanders in having toys that connect into the game. Families can purchase Pokemon Rumble U NFC Figures that connect into the game world through the Wii U Gamepad.
- Paul
Graphics: 62%
Sound: 70%
Replay/Extras: 74%
Gameplay: 63%
Family Friendly Factor: 60%

System: Wii U
Publisher: Nintendo
Rating: 'E10+' - Everyone 10+
{Comic Mischief, Mild Fantasy Violence}
Company provided product
Want more info on this product, or the company that made this product?
Set web browser to:
Link
Got a question, comment, or a concern regarding this review?
Email them to:
pbury@familyfriendlygaming.com