PES 2014
SCORE: 88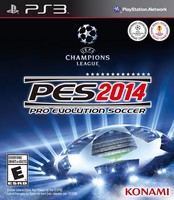 Last year was a record breaking year for the PES franchise. It was the first year it earned the crown of the best soccer game from Family Friendly Gaming. Could Konami repeat? Are they are on the verge of starting a legacy? Does PES 2014 top Fifa 14?
The simple answer to those questions is YES! PES 2014 does top out Fifa 14. This is the second year in a row Konami has walked away with the crown. They are on the verge of building a legacy. Their dynasty will continue for another year.
With all of that out of the way I have more to say about PES 2014. This year the game is not perfect. In fact I can see a few areas for improvement. Hopefully that will come in future years. No US based teams seems really odd for a world soccer game. Sure all the South American teams, and Asian teams are cool, but I want to play the Seattle Sounders.
The best part about PES 2014 is the action. The players do some amazing things with their feet and the ball. From headers to using their chest, and their knees. I felt like I was playing with talented soccer players. Ones that understood there is more to moving the ball than just a players feet. This is all thanks to the engine and TrueBall tech.
Players put their arms on one another while jockeying for position. This also happens when they get too close and you are driving, or trying to take the ball. This added realism in the animation is extremely noticeable. The Heart concept is also noticeable. Once you start doing well, the excitement builds and it feels like you can do no wrong. The same is true if you are messing up. It takes skill and talent to bring things back into your court.
The announcers relay the level of excitement, especially when you get a player in a good position to score. Their little comments helped me play better. They will also let you know why a shot was bad. The best example was I was out of position. Or maybe the goalie made an amazing save. I might have hit the goal post, missing a goal by just inches.
The defense is extremely intelligent in PES 2014. In fact all of the computer controlled players are very intelligent. Defenders will challenge you, try to intercept passing lanes, and constantly be in your face. Your team mates will try and get open for a pass, or a shot at a goal.
The music is interesting and diverse in PES 2014. Families can turn off select songs if they are not into that kind of music. Something Fifa 14 would not allow families to do. The music exhibits the international flavor of PES 2014. And it is one of the many aspects of this game that does that.
Online modes, become a manager, or a player are also present in PES 2014. The menus screens exhibit an intelligent design. The layout is clean, and easy to use. Loading screens took a bit longer than I was used to, but nothing terrible.
We play most of PES 2014 with small looking players. They look better in the replays. Although most of their eyes looked a little weird to me. This is one of the many aspects that can be adjusted when you create your own player. The depth of simulation in that regard is astounding.
The biggest selling point for PES 2014 is the core. The attention to little details is apparent all over this home console game. The way the players move with the ball, and toward a loose ball. The level of realism and top notch talent is very visible.
- Frank
Graphics: 83%
Sound: 87%
Replay/Extras: 90%
Gameplay: 95%
Family Friendly Factor: 85%

System: Xbox 360/PC/PS3(tested)
Publisher: Konami
Rating: 'E' - Everyone
Company provided product
Want more info on this product, or the company that made this product?
Set web browser to:
Link
Got a question, comment, or a concern regarding this review?
Email them to:
GameReviews@familyfriendlygaming.com