Neon Blitz
SCORE: 80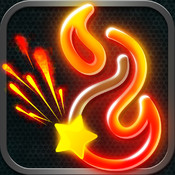 I really liked Neon Mania. There was so much for families in it. Neon Blitz is a shadow of the original game which makes me sad. Neon Blitz is a free app that only lets us play so many levels at once. We must earn stars by playing levels to unlock things. There are eight hundred levels in Neon Blitz but it will take forever to play them all.
The same neon look and feel is in Neon Blitz. I enjoy the various colors, shapes, and things we draw. Like the first game, the goal in Neon Blitz is to draw the smallest lines to the largest lines. That will provide the most points. There is a speed factor in Neon Blitz. The faster you can complete a level the more levels you can play.
I do not like the whole speed factor thing in Neon Blitz. I was never allowed to smell the roses, and enjoy what I was doing while I was doing it. I always felt rushed while playing Neon Blitz.
The music in Neon Blitz is good. I enjoyed it while I was playing this hand held app. The production value of the sounds continue in Neon Blitz. I don't know, maybe I was expecting more after the first game dominated so much. Neon Blitz also reinforces the rushed feel in terms of the music.
The game play in Neon Blitz is pretty simple to understand. We trace lines with our fingers. At the end we have created a neon image. It can be all kinds of different things. I know I may be obsessing here but the whole do levels as fast as possible is not the kind of thing I encourage. I also know many of our readers hate the free apps, with their in-app purchases. I have no clue why Vivid Games went from the normal model to the one that irritates our readers.
The game play issue in terms of not being able to see where we trace persists in Neon Blitz. There really is no way for this franchise to fix that since it is a control issue on the machine itself. Lord willing someone will come up with a solution in the future. I may have been down on this game a lot in my review, but it does have its good points. I prefer the first game in this series. Maybe you like to rush through a few levels at a time.
- Yolanda
Graphics: 90%
Sound: 80%
Replay/Extras: 73%
Gameplay: 75%
Family Friendly Factor: 83%

System: iPhone/iPod Touch
Publisher: Vivid Games
Rating: '4+' for 4+
Want more info on this product, the company that made this product?
Set web browser to:
Link


Please click on one of these link(s) to purchase this game and support us. Family Friendly Gaming is given a 4-5% commission on all orders.

Got a question, comment, or a concern regarding this review?
Email them to:
craftiemom@familyfriendlygaming.com