NCAA Football 14
SCORE: 93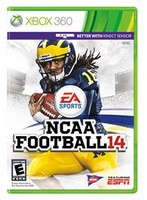 College football has a specific kind of fanbase. There are people who take college football extremely seriously. They know stats on players, coaches, stadiums and more. Some can even put Christians to shame with their zeal. They know what call to play on what defense scheme. They know when they will get a sack or interception.

With so many press releases, pictures, videos, and more happening so often before the game is released; at times the game can be a let down. Especially when there is a huge build up. Give EA Sports credit because they are constantly shaking things up in this franchise.

To be clear NCAA Football 14 is definitely different than Madden. It plays different, the atmospheres are different, the focus is different, and the presentation is different. NCAA Football 14 feels like college football. Speaking of presentation, there is new on-field chatter and over 500 new vignettes.

Cheerleaders in NCAA Football 14 are shown. They will get thrown up into the air and caught. Depending on the team, their belly buttons may be showing. At times you may also get a glimpse at their bloomers. This is the only issue I can see families may have with NCAA Football 14. That and the football violence.

I suppose I have been institutionalized to accept the violence in football. If it bothers you, then by all means pass on this game. There are some rough hits in this game. Certain players will run over other players. I moved on to the next play after the wicked hits.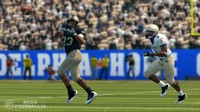 ESPN Instant Classics are one of my new favorite features. What is that? If you have a good game, then it becomes an ESPN Instant Classic. It is absolutely awesome to be put in that league. Whether you win or lose you know you were in a really good game.

The Infinity Engine 2 is fabulous. The hitting, stumbling, recovering and more are so much more realistic and accurate. I suggest new players check out the Nike Skills Trainer first off so they can learn the controls and various control schemes to NCAA Football 14.

Like previous games in this franchise, there is online and offline modes. The Kinect version of NCAA Football 14 is better for a variety of reasons in my opinion. Changing things via your voice is absolutely awesome. Plus it helps add to the realism of NCAA Football 14.

On the topic of realism, NCAA Football 14 looks wonderful. It also sounds wonderful. I loved hear chants after the defense held them to a three and out. Or the celebration after scoring and going three touchdowns ahead in the fourth quarter.

Dynasty mode will most likely be where you spend most of your time when playing NCAA Football 14. The eighteen upgradable coaches skills will seriously improve your game. It also adds a role playing element to this sports game. The more time you put into Dynasty the better your team will be.

Lets say you want to play without dealing with recruiting. Well then you can play a season. The storlyines are updated based on the real world. Or you can build an Ultimate Team thanks to that mode being added to NCAA Football 14.

No matter how you cut it, NCAA Football 14 is a fantastic college football game. You can play with family and friends locally or online. You can take your favorite team through a season, dynasty, or more. After the game you can save your personal favorite highlights. You will be amazed at how much you can learn about college football thanks to NCAA Football 14.
- Frank
Graphics: 89%
Sound: 94%
Replay/Extras: 98%
Gameplay: 96%
Family Friendly Factor: 90%

System: PS3/Xbox 360(tested)
Publisher: EA Sports
Rating: 'E' - Everyone
Company provided this product
Want more info on this product, or the company that made this product?
Set web browser to:
Link

Got a question, comment, or a concern regarding this review?
Email them to:
GameReviews@familyfriendlygaming.com