NBA 2K14
SCORE: 93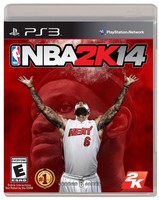 2K Sports has been dominate in the field of video game basketball. They will face a challenge later this year on the upcoming next generation home consoles (PS4 and Xbox One). But until that time, the NBA 2K franchise is still king of the mountain. NBA 2K14 is a fantastic sports game.
Lebron James is the main focus of NBA 2K14 on the Playstation 3, and Xbox 360. You can take his path to greatness, and make this year unfold the way you believe it should. You can create your own player and work your way into the NBA. You can pick your favorite team from the past or the present.
It was a super treat for me to be able to play as the Seattle SuperSonics. The NBA may have stuck Seattle in the back, but 2K Sports has the Seattle fans taken care of in NBA 2K14. Want to know a secret? The SuperSonics are an amazingly tough team to beat.
Music in sports games has become a big issue for families over the years. NBA 2K14 takes the most intelligent design it can. You can turn off any particular song in the 2K Beats section. So you keep only the songs you like to hear. If a certain song offends you, then quickly turn it off.
Multiple controls schemes allows all skill sets to step in and enjoy NBA 2K14. You can use the square button or the right control stick to shoot (PS3 buttons). It all depends on your skill level and comfort. There are some sweet looking shots in this game. The players react accurately to the situations. The defenses are very intelligent, and will get in your way. Slam dunks are few and far between in NBA 2K14.
The announcers in NBA 2K14 are absolutely amazing. I was watching two other members of Family Friendly Gaming play a game. I closed my eyes and just listened to the announcers. It felt like a real game on television. 2K Sports has NBA 2K14 at that level.
The visuals in NBA 2K14 are also very realistic looking. From the players, to the courts, to the fans in the stands, to the coaches. Cheerleaders are present in NBA 2K14. Thankfully there is not a real focus on them, and that section can generally be skipped quickly.
Families can play one another locally in NBA 2K14, and they can go online and play. There is a mode where you can play one on one, two on two, three on three, four on four, or five on five on the blacktop. You can create your own player, play seasons, and more. The amount of content in NBA 2K14 is staggering. As long as you like basketball you will get your moneys worth out of NBA 2K14.
- Frank
Graphics: 90%
Sound: 95%
Replay/Extras: 100%
Gameplay: 95%
Family Friendly Factor: 85%

System: Xbox 360/PS3(tested)
Publisher: 2K Sports
Rating: 'E' - Everyone
Company provided product/span>
Want more info on this product, or the company that made this product?
Set web browser to:
Link
Got a question, comment, or a concern regarding this review?
EEmail them to:
GameReviews@familyfriendlygaming.com