Mario Tennis Open
SCORE: 73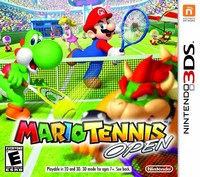 It takes a big man to step back when they feel they may have been compromised. Our editor in chief wrote the preview for Mario Tennis Open, and Nintendo has been flaking with Family Friendly Gaming in recent months. He decided to hand the review off to me since he felt he was compromised due to the problems FFG has been having with this company.
He paid the forty dollars for Mario Tennis Open, and I did not have to pay a dime. Just like the thousands of products that are constantly sent in to Family Friendly Gaming. I have to say I do not think Mario Tennis Open is worth that much money. I would put its value at the twenty dollar to the twenty-five dollar range.
Mario Tennis Open fits into two categories. You are stomping someone, or you are getting stomped. I would volley with someone back and forth only to lose every single point. I never felt like I was close. The opposite was true when I was stomping. They may volley with me here and there, but the points always went to my side. Which makes Mario Tennis Open a boring game.
There are some neat little mini games in Mario Tennis Open that kept my attention for about five minutes. There are plenty of other tennis games on the market that have so many better mini games. Mario Tennis Open can be played online and it has that Streetpass thing going for it as well. Human competitors are the same as the computer ones. The game seems to decide who is going to win and we have to play our parts like actors.
The 3D effects in Mario Tennis Open did not impress me one bit. It looks like Nintendo is trying to stretch it out more and smooth out the edges. But like I said, I am not impressed. The graphics look okay, and the tennis courts have themes of the different characters.
The courts have these circles which grant the player special powers. If you can go from one to the next you are almost always assured the point. If you don't string them together then you will lose the point. There is no skill or strategy to Mario Tennis Open beyond that.
I agree that Mario Tennis Open is a major disappointment. This game could have been so great but it fell flat on its face. Characters throw tantrums every time they lose a point. So we are subjected to that over and over again. Family Tennis 3D is a better tennis game on the 3DS.
- Frank
Graphics: 80%
Sound: 81%
Replay/Extras: 76%
Gameplay: 50%
Family Friendly Factor: 79%

System: Nintendo 3DS
Publisher: Nintendo
Rating: 'E' for Everyone
Want more info on this product, the company that made this product?
Set web browser to:
Link


Please click on one of these pictures to purchase this game and support us. Family Friendly Gaming is given a 4-5% commission on all orders.

Got a question, comment, or a concern regarding this review?
Email them to:
GameReviews@familyfriendlygaming.com