Madden NFL 25
SCORE: 91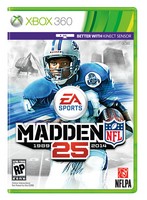 Madden NFL has reached twenty-five. Back in 1989 gamers were introduced to a fun new football franchise. Few could have imagined it would one day be the dominate football game in the video game industry. Here we are in 2013, and that is just where it is.

EA Sports is paying homage to the lengthy history of this franchise with the name of this game - Madden NFL 25. They are also respecting the past with the loading screens. This home console sports game shows screenshots and includes information on past releases.

To me Madden NFL 25 feels like an organizational chart. There are few options (or boxes) at the top. Go into a box and then there are multiple different things beneath it. Connected Franchise is a perfect example of this. You can be a player, coach, or owner. Within those we can create our own, or take an existing player for example. There are even legendary players available.
The Infinity Engine 2 adds realism to Madden NFL 25, I noticed a few weird glitches here and there. Mainly this was how legs looked after a tackle. Most of the time the level of realism was impressive. I could tell when my ball carrier was leaning forward for those extra yards.
The Run Free & Precision Modifier are the big focus this year. Players can spin, dive, hurdle, recover from stumbles, stiff-arm, truck, truck spin, juke, jab step, and more in Madden NFL 25. I felt like I was more in control of the action during the open field action.
I know there are some radicals trying to get rid of football because they feel it is too violent. Madden NFL 25 reflects the physical game that is football. Yes people do get hurt in football. Madden NFL 25 reflects this. Are there more violent sports? Yes there are. Boxing and MMA come to mind. If you feel football is too violent, then do not let your kids play it. Do not let them play games like Madden NFL 25. Stay away from it. Do not however take the sport from the rest of us.
The owner mode in Madden NFL 25 intrigued me personally. Getting to micro manage things like the staff, marketing, and finances is an eye opening experience. Madden NFL 25 even lets you relocate the team to a city like Memphis for example. Or bring in a player like Tim Tebow.

Madden NFL 25 continues the focus on the online modes, and community play. So if you like playing online you can continue to do that. If those modes are of no interest then you will keep getting asked to sign in with an email address and password. That may frustrate you.
The Xbox 360 audibles continue. Which means you can talk to your Kinect sensor and tell it what plays to audible to. You just have to remember the right things to say at the right time. You may have others around you ask who you are talking to. Or they may ask why are you talking to the TV.
- Frank
Graphics: 90%
Sound: 90%
Replay/Extras: 96%
Gameplay: 90%
Family Friendly Factor: 90%

System: Playstation 3/Xbox 360(tested)
Publisher: EA Sports
Rating: 'E' - Everyone
Company provided product
Want more info on this product, or the company that made this product?
Set web browser to:
Link

Got a question, comment, or a concern regarding this review?
Email them to:
GameReviews@familyfriendlygaming.com