Lumines Electronic Symphony
SCORE: 90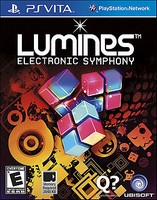 I love to see franchises improve. I love it when companies decide to make their products family friendly. I love it when companies decide they want to be inclusive of the family, instead of exclusionary. I love to see games that bring us together instead of divide us. Lumines Electronic Symphony is one such hand held video game. Before Lumines Electronic Symphony this franchise had been going in the wrong direction.
Ubisoft turned this ship around, and Q? Entertainment has now reached their potential with the Lumines brand. I am so glad that I purchased Lumines Electronic Symphony for this review. It is a wonderful game that anyone in the family can pick up and enjoy.
We still drop colored blocks down into a rectangle area. We still need to match four or more in a cube. We still get all the wild outlandish colors, and mesmerizing music to keep us entertained. All of the pluses are present in Lumines Electronic Symphony. All of the minuses from previous games are gone.
Lumines Electronic Symphony is a wonderful first generation Playstation Vita title. If you have been looking for reasons to purchase a PS Vita, let me point you right to Lumines Electronic Symphony.
This hand held title lets you challenge your friends, unlock a variety of content, new skins, and new music. I got my moneys worth out of Lumines Electronic Symphony. And I will continue to do so for some time to come. There are enough modes and unlockables to keep family members engaged for some time.
The wild colors and techno music are extremely captivating in Lumines Electronic Symphony. The action can get going fast so I was not always able to sit back and smell the roses. Lumines Electronic Symphony captures the Tetris kind of action, but is different enough to keep us coming back for me.
The one concern families may have with Lumines Electronic Symphony is addiction. I found myself wanting to do better next time. Or try out a different mode. Players can survive in games for some time as well.
- Paul
Graphics: 93%
Sound: 90%
Replay/Extras: 88%
Gameplay: 90%
Family Friendly Factor: 89%

System: PS Vita
Publisher: Ubisoft
Rating: 'E' - Everyone
Want more info on this product, the company that made this product?
Set web browser to:
Link


Got a question, comment, or a concern regarding this review?
Email them to:
pbury@familyfriendlygaming.com