Lode Runner
SCORE: 83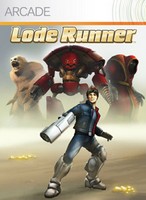 Tozai Games is doing gamers a real favor by remaking older games. They build these games from the ground up. Your family will notice this immediately in the graphics, and sounds. Lode Runner on the Xbox 360/PC is the latest game from Tozai Games to enter the Family Friendly Gaming Nation.
If you remember Lode Runner from back in the day, then you will recall it was one tough nut to crack. Lode Runner on the Xbox 360/PC carries across that tradition. Players have multiple lives to try and collect all of the gold in one run. But wait there is more. After collecting all the gold you must then escape the screen.
Players have one important skill on their side to lead them to victory in Lode Runner - a gun. Don't worry you are not going to shoot those things that are chasing you. Instead we shoot certain kinds of bricks. That way we can create blockades that keep them back, or trap them in that space for a few seconds.
Tozai Games could have stopped there. I mean a remake of an older game is done all the time. They didn't stop there though. They went on and added a level editor, leaderboards, co-op, multiplayer and level sharing. So you can make your very own insanely difficult levels for others to try and master.
The six game play modes, and 272 all new levels will keep even the most hardcore gamer busy for months. Beating a level finally after having issues feels really good in Lode Runner. I could finally go to bed with my mind at complete peace. Okay maybe that is a bit far but you know what I mean.
The one drawback to Lode Runner is how difficult it is. Gamers of lower skill will have immediate issues with Lode Runner. Frustration can easily boil into aggravation. The aggravation can turn into irritation. The irritation will blossom into anger. My advice is to try the tutorial, and easiest modes first.
- Frank
Graphics: 88%
Sound: 81%
Replay/Extras: 92%
Gameplay: 78%
Family Friendly Factor: 77%

System: PC/Xbox 360(tested)
Publisher: Tozai Games
Rating: 'E' -Everyone
{Mild Fantasy Violence}
Company provided this product
Want more info on this product, or the company that made this product?
Set web browser to:
Link

Got a question, comment, or a concern regarding this review?
Email them to:
GameReviews@familyfriendlygaming.com