Lego City Undercover
SCORE: 84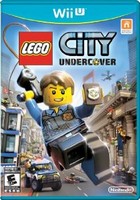 Lego video games are huge here at Family Friendly Gaming. So we were all very stoked to play and review Lego City Undercover. So much so that I was willing to pay two and a half times what I normally spend on a video game. I was worried that Nintendo may have injected too much input into this game. Thankfully that is not the case.
Lego City Undercover is absolutely hilarious. From the intro movie to the various comments by Chase McCain. We learn the back story and why officer Chase McCain left Lego City. We also find out he is back to capture Rex Fury - who escaped from prison.
As the name implies we need to go undercover. We work our way through the criminal ranks to find Rex Fury. This means a wide array of disguises. These disguises grant Chase additional skills. By the end of the thirteen chapters we have almost every skill we need to completely levels totally in Lego City Undercover. Yes if you want one hundred percent you will need to go back and replay all of the levels.
Lego City Undercover is a one player game only. This is bad for families, and a horrible direction for the Lego games - which are normally multiplayer. The loading times in Lego City Undercover are insanely long. Not only that but they happen way too often. We can steal anyone's vehicle and take it for a spin. We can also bash into other people's vehicles to quickly earn bricks. Studs are only important for purchasing additional characters. Bricks are needed for Super Builds and game progression. So the bricks become way more important.
I love the directions in Lego City Undercover. Get in a vehicle and green studs mark the way to go. Get out and many times a green arrow will appear on the screen. The Wii U Gamepad also shows a map of the city and has a bold green line for where the player needs to go. Holding the Wii U Gamepad up and moving it around to find hidden objects, and eavesdrop on conversations is another interesting aspect of this home console game.
The lack of bosses until the end makes portions of Lego City Undercover feel monotonous. When we do have to fight it is beyond boring. There is little diversity in what we do in this game. There is also no direction after the game is beaten. Just go around the massive city and find hidden objects. I do love how many different things there are in Lego City Undercover. All in all this is a fun game.
- Paul
Graphics: 85%
Sound: 87%
Replay/Extras: 90%
Gameplay: 75%
Family Friendly Factor: 83%

System: Wii U
Publisher: Nintendo
Rating: 'E10+' for Everyone 10+
{Cartoon Violence, Crude Humor}
Want more info on this product, the company that made this product?
Set web browser to:
Link


Got a question, comment, or a concern regarding this review?
Email them to:
pbury@familyfriendlygaming.com