Jewel Match 3
SCORE: 85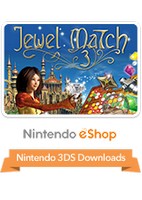 Joindots impressed me with Jewel Match 3. This downloadable game on the Nintendo 3DS and Nintendo 2DS is one solid match three mixed with some hidden object game play, and resource building. So much was put into this 3DS game that families will be kept busy for weeks.
The graphics for the match three rooms are on the small side. The 3D effects on the top screen are nice eye candy. The characters in Jewel Match 3 are detailed in a realistic manner. Saving a kingdom that fell under a curse is an interesting story line.
Players use tools in Jewel Match 3 to help them in different situations. These have to be built up. Some of these are called spells, but do things like unlock the chained tiles. Which can be important if you are playing one of the times modes. Jewel Match 3 lets families play with or without a timer. It all depends on your skill, and if you want to be allowed to fail or not.
The amount of content in Jewel Match 3 is extensive. There are one hundred levels, and mini games on top of that. Plus you get to see how much of the kingdom you have restored. Gardening is another mild aspect of Jewel Match 3. Water those plants between levels, and plant new flowers.
Jewel Match 3 is exceptional musically. I love listening to the music and special effect sounds in this hand held gem matching game. Jewel Match 3 reminds me of Walls of Jericho in that regard. Jewel Match 3 gives families great guidance on how to play the game, and what needs to be done next.
Joindots has shown how the merging of different game play styles can work. Jewel Match 3 is a testament to their success. I hope to see more games like Jewel Match 3 in the future. This game works perfectly on the Nintendo 3DS and Nintendo 2DS.
- Yolanda
Graphics: 80%
Sound: 87%
Replay/Extras: 93%
Gameplay: 88%
Family Friendly Factor: 77%

System: Nintendo 3DS
Publisher: Joindots
Rating: 'E' for Everyone
Company provided this product

Want more info on this product, or the company that made this product?
Set web browser to:
Link
Got a question, comment, or a concern regarding this review?
Email them to:
craftiemom@familyfriendlygaming.com