Iron Man 3
SCORE: 69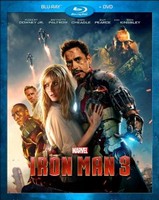 I have been enjoying the Marvel movies for some years now. It is nice to see some quality products (in terms of production values) reaching the market. I can barely believe that Iron Man has made it to its third movie. Quite a few things change, and quite a few things are different.
What is the same? The actors/actresses that play the parts. Robert Downey Jr., and Gwyneth Paltrow continue to play their roles marvelously. They are both given some amazing ranges to work with. Tony Stark is portrayed marvelously. Especially with the panic attacks and self doubt.
The odd take on the Mandarin in Iron Man 3 threw me for a loop. As well as Tony Stark going off the reservation and attacking a terrorist compound without his suit. All of the different suits and pieces flying towards Mr Stark are interesting but do not feel like much of an improvement from past movies.
The comedy is deep and rich in Iron Man 3. Robert Downey Jr. continues to deliver his lines in a charming way that will have families laughing. The need for revenge will dampen the mood, as well as certain points where we believe certain characters die.

Iron Man 3 is violent and bloody. There are detective portions, but they are split up. The whole Tony Stark hiding out in Tennessee seemed strange. As well as enticement to lust portions that felt tacked on. It was neat to see War Machine again.
For being a genius Tony Stark made multiple blunders in Iron Man 3. This is before he knew his connection to the bad guys. Sure he could have handled things in the past better. Yet the outcome would have probably been the same. Maybe directed towards a different enemy.
The bonus features on the Iron Man 3 Blu-ray disc will keep you busy close to the length of the 130 minute movie. The Shield episode, gag reel, deleted scenes, and more keep families occupied. I hope Robert Downey Jr. continues his role as Iron Man. He does a wonderful job. He is the glue that keeps it together.
- Paul
Graphics: 58%
Sound: 65%
Replay/Extras: 84%
Gameplay: 80%
Family Friendly Factor: 60%

System: Blu-ray
Publisher: Disney
Rating: 'PG-13' for Parents Strongly Cautioned
{for sequences of intense sci-fi action and violence throughout, and brief suggestive content}
Company provided product
Want more info on this product, or the company that made this product?
Set web browser to:
Link
Got a question, comment, or a concern regarding this review?
Email them to:
pbury@familyfriendlygaming.com