Icycle On Thin Ice
SCORE: 75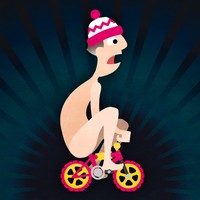 For years Family Friendly Gaming has commented on the different game play experiences Chillingo brings to the industry. Icycle On Thin Ice is a perfect example of this. As I played this iOS app I marveled at the artistic nature and expression.
As the debate rages on about whether video games are art or not; Icycle On Thin Ice comes along to stake its claim in that debate. Icycle On Thin Ice also shows us something - not every game is going to be a work of art, or a piece of art. There are games that can make that claim - but not all of them.
Players take on the role of a nearly naked man on a two wheeled contraption. Like a little bicycle. He gets on different bicycles in later worlds. He is in a frozen tundra that players move him through. He can move left, right, and jump. Once the umbrella is found he can glide down safely.
Icycle On Thin Ice is in love with a snow woman. In fact his whole quest reminds me of Don Quixote. Icycle On Thin Ice is very unique, and it presents itself as such. For me, Icycle On Thin Ice is one of the most different games I have played on any system. Not just the iOS platform.
You know how we routinely expose the mistakes of the ESRB in our reviews? Well it is time for Apple to take a beating for their mistakes in rating Icycle On Thin Ice. With partial nudity, enticement to lust, and a variety of death on things like spikes I can not fathom why they gave this app a four year old and older with no descriptors.
There are three on screen controls for Icycle On Thin Ice. The jump button is on the right, the left and right arrow keys are on the left side. Like any app with on screen only controls there will be issues with missing the button because your hand/fingers obstruct the view.
Icycle On Thin Ice also contains in-app purchases - which really makes no sense to me. Players can purchase clothing for their characters by collecting snowflakes in the various levels. Adding clothing to the poor freezing man is one of the best aspects of this app.
- Paul
Graphics: 70%
Sound: 75%
Replay/Extras: 80%
Gameplay: 79%
Family Friendly Factor: 70%

System: iPhone/iPod Touch
Publisher: Chillingo
Rating: '4+' for 4+
Company provided this product

Want more info on this product, or the company that made this product?
Set web browser to:
Link
Got a question, comment, or a concern regarding this review?
Email them to:
pbury@familyfriendlygaming.com