Hexodius
SCORE: 66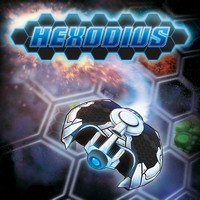 Hexodius takes the being trapped in a large room with all kinds of enemies coming at you from all angles, and adds something new. Well maybe not new to the video game industry. It is the first time I have heard of putting a hex map in this kind of a shooter.
Players move around on a map screen in Hexodius. Certain squares are for battles, others let you have a continuation point, and others are shops where you purchase things. Players have to plot their course through the map. If such a thing is even possible.
Expect two things from Hexodius. First thing is you will blow away thousands of the same looking enemies. The second thing is it is a very challenging game. Even on easy Hexodius is not a game for casual gamers. Not unless they have crazy mad skills and ultra fast reflexes.
I am a little surprised the ESRB stamped Hexodius with an 'E' for Everyone rating. We fly around these rooms blowing away the countless enemies that attack us. There might be a reason we are doing this. The words are so tiny that I could not read them unless I was sitting right in front of the television. You know what mom said about that right? It would mess up your eyes. No wonder I wear glasses.
The musical scores in Hexodius are exciting to listen to. They can be drowned out with all of the shooting and explosions. Really ESRB? An 'E' for Everyone? The controls are uh interesting. Move around with the left stick, and blast away with the right. This means you can move one direction and fire behind yourself. Or in front, to the right, left, etc.
Players can purchase upgrades to help them survive the insanely difficult levels. You will purchase upgrades in Hexodius. There is no other way to survive for very long. Unless you enjoy seeing the GAME OVER screen. I am just saying.
- Mark
Graphics: 64%
Sound: 68%
Replay/Extras: 79%
Gameplay: 60%
Family Friendly Factor: 60%

System: Xbox 360
Publisher: Namco Bandai Games
Rating: Rating: 'E' for Everyone
{Mild Fantasy Violence}
Company provided this product

Want more info on this product, or the company that made this product?
Set web browser to:
Link
Got a question, comment, or a concern regarding this review?
Email them to:
GameReviews@familyfriendlygaming.com