Gran Turismo
SCORE: 75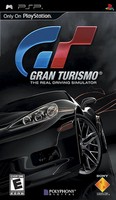 I saw Gran Turismo on the Playstation Portable (PSP) for a really good price on clearance. I wondered how well this Sony racing game made the transition to this hand held device. Ultimately I came away from the experience with the opinion - the PSP version of Gran Turismo is okay. It is not stellar, and it is not horrible. In the middle of the road on the dotted line.
The cars look fantastic in Gran Turismo. The tracks are another story. The tracks are pretty bland and blah looking. The cars look fantastic especially in the menu screens. Which is nice since there are eight hundred cars in Gran Turismo. There are only thirty-five tracks so their poor graphics is semi excusable.
The music in Gran Turismo is okay. I heard some music I liked, and some I could have done without. Again right down the middle. Nothing that stood out, and nothing that called out the pitchforks. The car sounds are pretty generic as well.
The core concept of Gran Turismo stays the same. We race cars to earn money. That money is used to purchase better vehicles. I raced the same tracks over and over again earning money to get a car good enough to compete in the next race. This happens frequently in Gran Turismo. Probably because there are only thirty-five tracks. The developer Polyphony Digital had to find a way to get players interested in purchasing some of the eight hundred cars.
I feel like I got my moneys worth out of Gran Turismo on the PSP. I paid under five dollars so that may have something to do with that opinion. There is enough content for me to have felt good about my purchase. Plus I am blessed to be able to share my experiences with all of you guys. Not everyone gets to do that.
Gran Turismo lets players knock other cars out of their way. Be careful because the computer controlled cars can band you around as well. Gran Turismo is Wi-Fi compatible for up to four players. So if you can actually find someone else with the PSP version of Gran Turismo you can play with them.
The goal in Gran Turismo is to get to the finish line first after a set number of laps. This hand held game provides a line guide to show players where to be on the track. Also when to slow down.
- Frank
Graphics: 70%
Sound: 75%
Replay/Extras: 90%
Gameplay: 60%
Family Friendly Factor: 79%

System: PSP
Publisher: Sony
Rating: 'E' for Everyone
Want more info on this product, the company that made this product?
Set web browser to:
Link


Got a question, comment, or a concern regarding this review?
Email them to:
GameReviews@familyfriendlygaming.com