Gran Turismo 5
SCORE: 72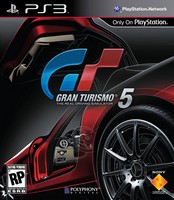 There are big names in racing games, and Gran Turismo is one of them. After playing Gran Turismo 5 I am beginning to wonder why. The menu screens are overly cumbersome, the flow of the game is off, and some of the cars control like whales. Especially when we reach higher speeds.
Gran Turismo 5 looks great. This is from the vehicles to the tracks. The menu screens are ugly, and have very small text. Players are allowed to race exceptionally dirty in Gran Turismo 5. That is the best way to win races in this game sometimes. Other times it is the only way.
The vehicle sounds in Gran Turismo 5 are neat, but overshadowed by the bad language contained in certain lyrics of specific songs. I am not sure why Sony decided to include such songs. In my opinion this game earned an E10+ rating instead of an E for Everyone rating. Lord willing the ESRB will stop stone walling investigations into why.
The controls in Gran Turismo 5 range from vehicle to vehicle. Some vehicles in Gran Turismo 5 are okay. Others are insanely difficult to control. What is worse, is Gran Turismo 5 is changing what kind of vehicle is needed in different race circuits. After finishing a race in one circuit we have to exit and go back a screen to race the next one in that circuit.
The design of Gran Turismo 5 is not intelligent at all, which is a real shame. I do not comprehend why this is the end product when so much time and effort was put into Gran Turismo 5. Other older franchises fixed these problems, so why do they exist in this Playstation 3 game.
All in all Gran Turismo 5 is a real disappointment to me. I feel like I wasted money on this home console racing game. I also feel like I wasted time struggling against races with lame cars the game sent my way. Then I had to race over and over again to get the money to get one that could actually compete in that kind of a race. You won't be missing anything by passing on Gran Turismo 5.
- Frank
Graphics: 85%
Sound: 68%
Replay/Extras: 80%
Gameplay: 58%
Family Friendly Factor: 69%

System: PS3
Publisher: Sony
Rating: 'E' for Everyone
{Mild Lyrics}
Want more info on this product, the company that made this product?
Set web browser to:
Link


Got a question, comment, or a concern regarding this review?
Email them to:
GameReviews@familyfriendlygaming.com