Giana Sisters Twisted Dreams
SCORE: 76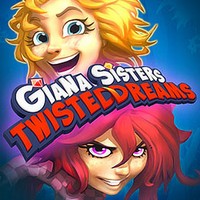 Know what is really cool to see in our industry? It is so cool to see indie games ported from the Personal Computer to the home consoles. Giana Sisters Twisted Dreams is the latest game to do that. Family Friendly Gaming was provided a download code for the PS3 version of this game.
If you are familiar with the PC version of Giana Sisters Twisted Dreams then you know what to expect. We swap between two sisters. They have different skills that help the player progress through the levels. Also certain objects will only be solid if you are one of the sisters.
Swapping between the two sisters shifts the background, mood, and entire theme of the level. Even the enemy characters will change. From devilish to more mundane. Players are able to jump on the enemies heads, and go dashing through them. Players can also dash their way through certain objects like bricks.
Giana Sisters Twisted Dreams is more difficult than say the Super Mario Bros games. That is the normal setting too. Giana Sisters Twisted Dreams can get even more difficult if you are up to the challenge. Giana Sisters Twisted Dreams may be one of the most difficult platformers I have ever played.
The control scheme for Giana Sisters Twisted Dreams works masterfully on the PS3. I actually prefer playing Giana Sisters Twisted Dreams on the home consoles. The one drawback is the graphics feel a little bit small to me. The amped up music made up for it in my book.
Giana Sisters Twisted Dreams is a solid downloadable title that the skilled players in the family will enjoy. It is over a gig in size so you may need to be patient with the download and then the installation. The hidden art gallery pictures is one of the major reasons to replay Giana Sisters Twisted Dreams. That and the more difficult modes.
- Paul
Graphics: 74%
Sound: 80%
Replay/Extras: 77%
Gameplay: 77%
Family Friendly Factor: 71%

System: Xbox 360/Playstation 3(tested)
Publisher: Black Forest Games
Rating: Rating: 'E' - Everyone
{Mild Fantasy Violence}
Company provided this product

Want more info on this product, or the company that made this product?
Set web browser to:
Link

Got a question, comment, or a concern regarding this review?
Email them to:
pbury@familyfriendlygaming.com