Germinator
SCORE: 85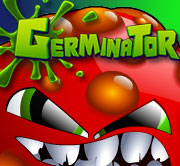 We review a nice array of puzzle games here at Family Friendly Gaming. There are various different ideas for kinds of games with different themes. Germinator is one of the more interesting ones we have seen in some time. We kill germs in this game by matching the same colors.
What is so unique about matching orbs of the same color? In Germinator they grow. In some instances (like with a power up) they grow almost as large as the entire screen. The different colored germs are what we match against. They take out the black germs that we do not match with.
The expanding until they explode nature of Germinator is one of the most interesting features. There are a couple of different techniques players can use to their advantage in Germinator. I enjoyed finding the different game play concepts in Germinator. This is a fun puzzle game on the Playstation 3.
Germinator includes a little tongue in cheek humor in terms of some of the characters, what they say, and how they act. The music and special effect sounds enhance this feeling. The insane increasing nature of the colored germs adds to the humorous nature of Germinator..
There are enough levels in Germinator to warrant the price. The special power ups of the different germs are really cool. I enjoyed the different themes in Germinator. The squeegee at the end of the levels is a really nice little touch. I am very thankful I was able to play and review Germinator on the PS3.
The originality in Germinator caught my eye. The main game play mechanic sticks out, and will help Germinator go down in video game history.
- Paul
Graphics: 77%
Sound: 87%
Replay/Extras: 92%
Gameplay: 86%
Family Friendly Factor: 85%

System: Playstation 3
Publisher: Creat Studios
Rating: Rating: 'E10+' - Everyone 10+
{Fantasy Violence, Mild Blood}
Company provided this product

Want more info on this product, or the company that made this product?
Set web browser to:
Link

Got a question, comment, or a concern regarding this review?
Email them to:
pbury@familyfriendlygaming.com