Game Party In Motion
SCORE: 86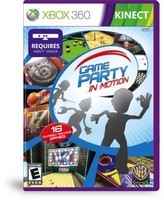 There are some games I am eager to play. I can not wait to get to them. Game Party In Motion was one of those games. It quickly jumped up to the top of my pile. Game Party was well received here at Family Friendly Gaming. Putting it into the Kinect control scheme really appealed to me personally. How would Warner Bros Interactive do with this Midway franchise?
Graphically Game Party In Motion captures that arcade look and feel. The characters look good, and are almost always family friendly. The game play areas look great with all kinds of realistic animations. The sixteen arcade games in Game Party In Motion are all family friendly.
The music helps with the atmosphere in Game Party In Motion. I found myself getting into the music as well as the instructions on how to play each of the games. Special effect sounds convey the importance of things that are done in this home console title.
The games in Game Party In Motion range. I loved the Hoop Shot game, but absolutely hated Air Hockey. Bean Bag Toss was a blast (surprisingly), and Bocce was frustrating beyond belief. Some of the games in Game Party In Motion control masterfully well, and others had problems.
I have one major complaint against Game Party In Motion. There are too many menu screens. I don't mind holding my right hand out in front of my body near waist height, but over and over again. That got old really fast. Others here at Family Friendly Gaming had the same comment. Selecting menu options was also confusing to some members here as well.
All in all I really like Game Party In Motion. This is a great game for families. I spent my own money on Game Party In Motion so this review could be brought to you. I feel like I got my moneys worth out of this home console Xbox 360 video game. There are a variety of different games that can be played in Game Party In Motion that families will enjoy. Beating one another's high score is the main reason for replaying Game Party In Motion.
- Paul
Graphics: 90%
Sound: 90%
Replay/Extras: 90%
Gameplay: 70%
Family Friendly Factor: 90%

System: Xbox 360 (Kinect)
Publisher: Warner Bros Interactive
Rating: 'E' for Everyone
{Comic Mischief}
Want more info on this product, the company that made this product?
Set web browser to:
Link


Got a question, comment, or a concern regarding this review?
Email them to:
pbury@familyfriendlygaming.com