Game Dev Tycoon
SCORE: 85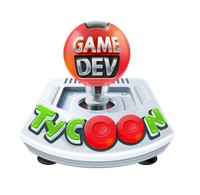 I read about, see, watch, and hear about so many games that there are few games that surprise me. In this day and age of over exposure to media I know many in the gaming community feel the same way. I knew what to expect out of Game Dev Tycoon. I did not expect it to be so engaging.
Game Dev Tycoon starts the player in their garage in the 80s. They are making games for old systems like the PC, and eventually the 8-bit NES. Game Dev Tycoon renames the systems but we know what they are. We also know how to pick the winners from the losers of video game history. Not every gaming system is represented in this PC game.
Once you have one million dollars in the bank then you can move into an office building. Stages of business development are a major part of Game Dev Tycoon. You decide when to invest in new technology. You decide what kind of a game to make.
When the player finishes a game, they then face the game reviewers from four fictional magazines (who do not have much diversity). These can make or break your sales. The number of fans your company has is also related to the overall success or failure of a particular game. What system the game is released on, the rating, and more also relate into winners versus losers.
I learned something early in Game Dev Tycoon. Do not make a similar game, or a sequel too close to the release of the last one. A high rated game can sell really well. But trying to milk the industry almost always ends up being a flop. Train your employees and make sure they are good at certain tasks.
The one danger in Game Dev Tycoon is addiction. I wanted to make one more successful game. Research that new company skill. Increase fans, and find a good publisher request. There is always just one more thing to do in Game Dev Tycoon.
All in all I enjoyed Game Dev Tycoon. I noticed it had references to the religious belief of evolution. It allows players to create zombie, vampire, and other macabre styles of games. There is also a push in Game Dev Tycoon for the morbid kinds of games. In fact making an 'M' game early will generate media interest. There was no reference or mention to Christian games even though they are larger in the real world to some of the genres included.
- Paul
Graphics: 79%
Sound: 84%
Replay/Extras: 92%
Gameplay: 86%
Family Friendly Factor: 82%

System: Personal Computer
Publisher: Green Heart Games
Rating: 'E' - Everyone
Company provided product
Want more info on this product, or the company that made this product?
Set web browser to:
Link
Got a question, comment, or a concern regarding this review?
Email them to:
pbury@familyfriendlygaming.com