Edge
SCORE: 85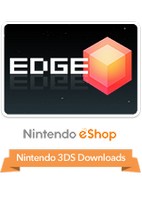 You are right on the edge. You can see the abyss just off the edge. You do not want to fall. You hope it is all a dream. Then you snap out of it and realize that you are playing Edge on the Nintendo 3DS. Falling off the ledge is not such a big deal. Your block will respawn nearby and you can try to get through again.
Edge has a simple concept. Get your block from the starting point to the ending point. Nothing could be easier. Unless you care about your score in the over one hundred levels (original, bonus, and extended). And you want to collect all the small little blocks. Edge throws all kinds of things at the player.
Edge has a plain Jane look to it. You won't confuse objects in this game. They are also family friendly. Important objects have colors - like the finish block. Then of course there is 3D on the Nintendo 3DS. Visual cues in Edge are very important to progressing through the levels.
I agree with others - the music in Edge ROCKS! I would go through level after level enjoying the music. I also looked for cues in the names of the levels. The name of each level can explain what you will face. I found myself pondering the names of levels when I got stuck.
Timing is everything in Edge. There is a certain flow to each of the levels in Edge. Once you can feel it then you are golden. There are so many levels in Edge that impress me. I marvel at them as I played through them. At times I had no clue where the exit was. I just went through the level until I found it.
Two Tribes has been classified in the range of an indie developer to a small developer. They made a big push this year to get themselves up to the range of a mid level game developer. As they continue to publish fantastic high quality games they are only going to increase. I see bright things ahead for Two Tribes.
- Paul
Graphics: 78%
Sound: 88%
Replay/Extras: 90%
Gameplay: 80%
Family Friendly Factor: 90%

System: Nintendo 3DS
Publisher: Two Tribes
Rating: 'E' for Everyone
Company Provided Product

Want more info on this product, or the company that made this product?
Set web browser to:
Link
Got a question, comment, or a concern regarding this review?
Email them to:
pbury@familyfriendlygaming.com