Circus Atari
SCORE: 84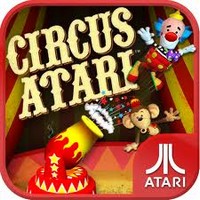 When I bring up free app to a friend, their eyes roll back into their head. They sigh, and are immediately dismissive. I know there are a ton of free apps out there that are not even close to being free. Circus Atari is actually free. There are in app purchases, but this iOS game will not force into purchasing. Or quit playing which is what many of us wind up doing. I know I quit because I feel like I was deceived, and there was a bait and switch thing going on.
Circus Atari gives us a clown. Who does not mess around. He jumps up in the air, and bounces off balloons. There are balloons that he holds on to and can float up for a distance. Monkeys get in the players way. There are items that can be purchased to get rid of them. There are safety nets the player can purchase as well. And those purchases can be made with real money or money earned in the game.
Circus Atari contains a big top look and feel to it. The sounds remind me of the three rings. The clowns, barrels, balloons, and coins all make me think of the circus. The goals brought a smile to my face. Especially after completing them and earning higher levels.
The goal in Circus Atari is pretty simple. Go as high up as you can. The higher you go, and the more coins you collect, the better your score is. Players can see where they rank among other players. This would be the only reason to purchase content. A safety net will save you when you fall and miss balloons. Bananas will shoo away those pesky monkeys. The more of these items you possess the higher you can go. So if you are the competitive type you may want to build up coins in the game, and then purchase those items. Find a really good run, and then see if you can use the items to create an all new high score.
There are plenty of items for the player to purchase. As long as you enjoy the game play in Circus Atari, you will find many hours of replay. Hey think about it, you are not out any money to try Circus Atari. I enjoyed playing this hand held little title. It may not be the best jumper on the market but it is definitely better than most free apps.
Circus Atari fits the iOS platform perfectly. It is quick little fun that draws players back with the enticement of improving your score. I learned how to gently rotate my iPhone thanks to Circus Atari. I did run into some mild lag a few times. A complete reboot cleared it up though.
- Luke
Graphics: 85%
Sound: 80%
Replay/Extras: 90%
Gameplay: 80%
Family Friendly Factor: 85%

System: iPhone/iPod Touch
Publisher: Atari
Rating: '4+' for 4+
Want more info on this product, the company that made this product?
Set web browser to:
Link


Please click on one of these link(s) to purchase this game and support us. Family Friendly Gaming is given a 4-5% commission on all orders.

Got a question, comment, or a concern regarding this review?
Email them to:
GameReviews@familyfriendlygaming.com