Cat on a Diet
SCORE: 72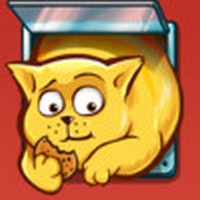 There have been a long line of physic puzzle games on the iPhone/iPod Touch platform. Cat on a Diet is the latest one to enter Family Friendly Gaming Nation. This is a line cutter like Cut the Rope. We have a fat cat that we need to get into the cookie jar.
The story in Cat on a Diet revolves around an obese cat that wants more food. Cat on a Diet can be a wonderful opportunity to discuss the problems in our world with gluttony. The cat definitely needs to go on a diet. On top of that he needs to get some exercise. Not wait around for us to get him to additional fatty foods.
Since Cat on a Diet is an iOS app we have to collect three of something per level. I am beginning to wonder if Apple demands three collectible items per level since it is used in so many games. Anywho! In Cat on a Diet we collect three cupcakes. Yes the eating unhealthy aspects continue.

Cat on a Diet is tough, complex, and difficult. If you miss the jar too many times in a row, this app will offer a hint. Which is really nice of it. Except those hints cost real world money. Not nice was the first thought I had when I ran across that.
Wood can fall into the cookie jar and block the rotund cat from entering. Want a tip? And I am giving this away for free. I am not demanding payment to help you. Players can cut the wood that is inside the cookie jar. That way your cat can ease on in, and you can complete that level.

Cat on a Diet is a difficult app. Families will find their brains challenged trying to get all of the cupcakes and the cat inside the cookie jar. Wood pieces can be used to collect the cupcakes - which is a definite help in playing this app.
- Luke
Graphics: 73%
Sound: 75%
Replay/Extras: 79%
Gameplay: 65%
Family Friendly Factor: 70%

System: iPhone/iPod Touch
Publisher: Chillingo
Rating: Rating: '4+' - 4+
Company provided this product

Want more info on this product, or the company that made this product?
Set web browser to:
Link
Got a question, comment, or a concern regarding this review?
Email them to:
GameReviews@familyfriendlygaming.com