Asphalt Injection
SCORE: 71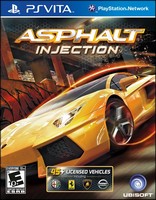 Never judge a book by its cover goes both ways. Man some cars look great on the outside, but once you get under the hood you discover problems. Asphalt Injection fits this masterfully. I started to play Asphalt Injection and it looked great. It played great too. I was ready to bestow another great one for Ubisoft on the PS Vita. But unlike so many surface only media outlets, we like to get to the meat of a product. And the meat is where we found some problems.
The visual effects, and the cars look great in Asphalt Injection. There is no denying that. There are races in Asphalt Injection that encourage the player to bash and crash into the other cars. This is a problem of course, but Asphalt Injection takes it a step further. It slows down the action and accentuates the violence. The screen has to cut over after we watch the gruesome carnage. This broke up the races, and slowed down the entire experience. I found it to be extremely distracting and totally pointless.
The music in Asphalt Injection enhances the game, and helps it keep the higher energy going. I am not fond of how Asphalt Injection is encouraging me to get other racers or insulting me when someone passes me. Getting passed is part of racing, and unfortunately a major part of Asphalt Injection if you do not play it the way it wants to be played.
No matter the race in Asphalt Injection there is one way to play it. We build up the boost, and then use the boost. Do this as often as you can and you have a shot at winning. Don't use the boost and you have no chance of ever winning any race - including the first one. The boost visual effect is great, but there is absolutely no strategy to Asphalt Injection whatsoever. We unlock cars after being certain levels so even that is locked down.
The forty-five licensed vehicles in Asphalt Injection are cool. And it is nice to have that level of unlockable content. For the price I paid, I feel like I overpaid. So you may want to pay attention to how much you pay for Asphalt Injection. It can be a big disappointment. The one solace I have is that Ridge Racer on the PS Vita is slightly worse.
I am not a fan of games that accentuate and focus on the violence. I understand there may be some violence in racing, but to glorify it sends the wrong message. The variety of races in Asphalt Injection is good and keeps things fresh and interesting. The game play kills that though. - Paul
Graphics: 68%
Sound: 76%
Replay/Extras: 82%
Gameplay: 67%
Family Friendly Factor: 64%

System: PS Vita
Publisher: Ubisoft
Rating: 'E10+' for Everyone 10+
{Mild Violence, Tobacco Reference}
Want more info on this product, the company that made this product?
Set web browser to:
Link


Got a question, comment, or a concern regarding this review?
Email them to:
pbury@familyfriendlygaming.com