Your Love Never Fails
SCORE: 94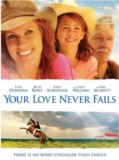 Laura is a single mother who wants to spend more time with her nine year old daughter. Unfortunately her demanding boss Paul is the typical higher up at a bank. He thinks the only thing anyone should have in their life is the job. The level of realism in Your Love Never Fails does not end there though. This difficult situations becomes even worse when her husband sues her for custody of their daughter. Yes I did say husband. She ran off for the job, and left him behind. She blamed him for not dropping everything in Texas to move up to New York. She is forced to go to Texas with her daughter Kelsey. She comes face to face with her past, feelings, and has to forge a future.
The first thing I noticed about Your Love Never Fails is how appropriate the attire is of the characters. The women dress in a classy and respectful way that is rarely seen in movies these days. There are some beautiful backdrops of the country in this film. There are some well known actors in Your Love Never Fails. John Schneider and Tom Skerritt are two that stuck out for me.
The level of emotion in Your Love Never Fails is very high. The actors/actresses do a fantastic job throughout the entire film. The music enhances the mood of this movie. I could feel the tension as she was trying to be there for her daughter and for her boss. She also explored her feelings for her husband and why she never signed the divorce papers. I love the song Your Love Never Fails by Jesus Culture.
Your Love Never Fails is one of those movies that has instantly become one of my favorites. I will be re-watching this film numerous times. Mainly because I want to see all the layers that are in it. Also because there is some fantastic content. Bloopers, and a music video are a couple of the extras on the DVD.
The coolest thing about Your Love Never Fails is the ending. I will not spoil it for you. I will say that marriage has been under attack for so long by Hollywood that is it nice to see a movie take a better path. The realism in Your Love Never Fails is astounding. I had no issues moving around the menu screens.
Your Love Never Fails is one of the few movies that has a pastor who actually preaches. Sure it is a short scene, but he uses verses from the Holy Bible properly, and they fit the lesson the characters needed. You will be surprised to see who plays the pastor as well. He does a fantastic job, and is the kind of a pastor we would all love to have. He is loving, but firm. He is kind, but does not accept excuses.
- Yolanda
Graphics: 86%
Sound: 95%
Replay/Extras: 89%
Gameplay: 100%
Family Friendly Factor: 100%
System: DVD
Publisher: Anchor Bay Entertainment
Rating: 'G' - General Audiences
Want more info on this product, the company that made this product?
Set web browser to:
Link

Got a question, comment, or a concern regarding this review?
Email them to:
craftiemom@familyfriendlygaming.com